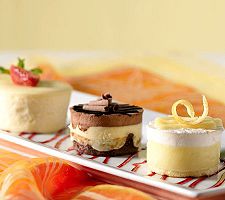 Junior's 18 Sugar Free Mini Layer Cake & Cheesecake Sampler
Control portions and keep your sugars in check while indulging in a fantastic dessert. These sugar-free mini layer cakes and cheesecakes are a perfect sweet treat for after dinner-or any time of day. The lemon mousse layer cake combines delicious lemon mousse and chiffon cake; the devils food che… [Read more]
Store: QVC.com
Brand: Junior's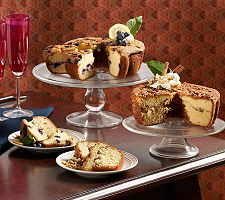 My Grandma's (2) 28 oz. Lemon Blueberry & Cinnamon Walnut Coffee Cakes
Moist choice. Savor the sweetness of two different coffee cakes. Lemon blueberry is packed with pleasure thanks to cultivated blueberries and a hint of Vermont maple syrup. Cinnamon walnut boasts the flavors of bourbon vanilla, sour cream, and Mariani walnuts. From My Grandma's of New England. [Read more]
Store: QVC.com
Brand: My Grandma's of New England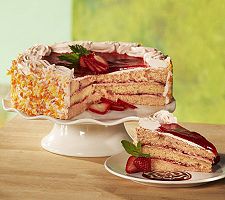 Sweet Endings Desserts 10-inch Fresh StrawberrySummer Cake
Strawberry sensation. Bursting with the flavors of summer, this scrumptious dessert marries strawberry cake with luscious whipped cream and layers of real strawberries. Serve the three-layer confection at your next barbecue party or enjoy a slice as a refreshing pick-me-up on a hot day. From Swee… [Read more]
Store: QVC.com
Brand: Sweet Endings Desserts
12 Chocolate Wedding Cake Pops
12 elegantly designed velvety rich chocolate cake pops with a soothing vanilla candy coating. Our cake pops are made from scratch and hand crafted by our personal artisans. Our wedding pops are great for weddings or wedding favors. Each Cake Pop is individual wrapped and includes 12 message tags…. [Read more]
Store: Chocolate.com
Brand: Eye Candy Cake Co.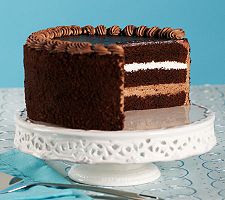 Junior's Cheesecake Sugarless Chocolate Dream Layer Cake
Satisfy your sweet tooth without the guilt! With this sugar-free Chocolate Dream cake, you can enjoy rich, gooey layers of classic chocolate cake, chocolate ganache, chocolate mousse, and whipped cream-all without the extra carbs. From Junior's New York Desserts. [Read more]
Store: QVC.com
Brand: Junior's
Authentic Gourmet 9-pc. French Dark Chocolate Molten Cakes
Chocolate lovers, rejoice! Epitomizing the French art of fine pastry presentation and taste, these dark chocolate molten cakes are just as delicious as they look! Easy to prepare and serve, each cake is filled with decadent dark chocolate that gushes and flows from the center once the cake is hea… [Read more]
Store: QVC.com
Brand: Authentic Gourmet
Red Velvet has long been a traditional American dessert, but it hasn't always been so delicious. During World War II, it is reported that the rationing of cocoa lead bakers to get creative with their recipes, forcing them to use boiled beets to enhance the color of the cakes. Luckily, beets are n… [Read more]
Store: Chocolate.com
Brand: Chocolate Bakery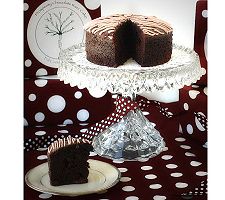 Full Spirited Prosperity Chocolate Razz or Mango Coconut Cake
Let yourself eat cake. Enjoy the finest ingredients available whenever you sink your teeth into these decadently delightful slices of heaven. In the search for a sumptuous way to satisfy your sweet tooth, this dynamite dessert makes your decision a piece of you-know-what. From Full Spirited Flavo… [Read more]
Store: QVC.com
Brand: Full Spirited Flavours
12 Hand Decorated Snowman Cake Pop
What could be cuter then Frosty the snowman cake pops? Use as a favor or a gift. This adorable treat has a secret combination of ingredients to make it insanely delicious. Our rich fugdy double chocolate cake recipe made into bite size pops embellished with beautiful designs and accented with col… [Read more]
Store: Chocolate.com
Brand: Veronica's Treats
This is way more than your mom's pound cake -it's A LOT of snack size candy bars, including Snickers, Baby Ruth, Crunch, Reese's Cups, Butterfingers, Twix, 100 Grand, Milky Way, Kit Kats and 3 Musketeers. Topped with a bow and sparkling ribbon, it's perfect for any celebration! Our "cake&quo… [Read more]
Store: Chocolate.com
Brand: Candy Blast
Peanut Butter Mousse Mini Cakes
For those who have a passion for peanuts. Peanut Butter mousse topped with crunchy salted roasted peanut streusel and layered on 72% E. Guittard dark chocolate Devils Food cake and then covered with Peanut Streusel and 72% E. Guittard ganache. Each box includes 6 mini cakes. Wow your friends! Per… [Read more]
Store: Chocolate.com
Brand: The Dark Chocolate Bakery
Chocolate Truffle Birthday Cake
8" Cake – #1 Winner last 5 years in a row for Best Bakery in the Reader's Choice Awards. Our exclusive Chocolate Truffle Cake was a hit at Valentine's Day, so we've decided to offer it as a birthday cake as well. Two layers of moist dark chocolate cake are filled and covered with our signatu… [Read more]
Store: Chocolate.com
Brand: LaPatisserie, Inc.
Related Posts Just for You
Comments
comments
r