We've done many a long car trip with our dogs. From three hour trips to 22 hour trips. To be honest, I have not one regret in doing so.

How to Travel with a Dog
My Best Tips
1. Your dog is a breathing, living, thing just as you and I are.
This means that your dog will get thirsty, will need to go potty, and will need to stretch, just as we would. Don't forget to take advantage of those rest stops.
2.Pack for your dog.
You're probably bringing a suitcase for yourself packed with your necessities. Pack something for your dog too. Don't forget the water bowl, leash and food. We always keep these things especially the water bowl easily accessible for rest stops. We also bring a jug of water.
3.Constraining.
The last thing anyone needs is a dog crawling into the front seat. Even worse, onto your lap while you are going 70 mph in traffic. Have some kind of a barrier or crate.
I have this in the backseat of my car at all times to prevent front seat intrusions.
AKC Water-Resistant Car-Seat Cover for Pets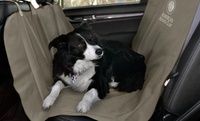 American Kennel Club Water-Resistant Car-Seat Cover
Another great idea:
Goodyear Pet Car Harness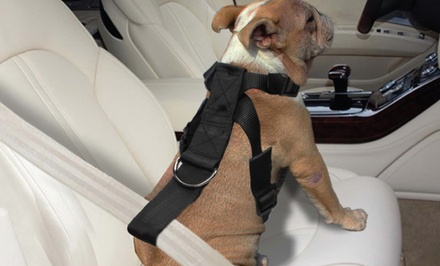 Goodyear Pet Car Harness
4.Don't leave your dog in a hot car or in a car overnight
We make our stops for food and bathroom with little problem. Usually, we take turns walking the dog or going inside the building. It can be done.
We have found many hotels that love when you bring your dog. They will have bones at the check in desk. We have also found hotels that have a no-pet policy but, will know of a pet friendly place for you. Many hotels will let you bring your dog for a small fee. We have had luck with big dogs and little dogs.
5.Make your dog comfy
If your dog is comfy and able to rest, everyone is happy.
6.What not to forget.
Dog toys, treats, waste bags, water, water bowl, food, leash, and some kind of constraint or barrier. You may also want to check with your vet before you leave.
Trending Stories
Related Posts Just for You
Comments
comments
r