This American Heart Month, the Centers for Disease Control and Prevention (CDC) and Million Hearts®–a national effort to prevent 1 million heart attacks and strokes in the United States by 2017.
February is Heart Month-Are you at Risk?
You probably know of someone or are related to someone who has had symptoms of heart disease. Many people just heat about heart disease but, may not full understand what it means.
Heart Disease is important stuff.
That is why there is a month designated to spreading the word about it. The CDC shares these facts about the leading cause of death.
Key Facts From the CDC
Many risks for heart disease and stroke—including high blood pressure and high cholesterol—may not have any symptoms. Many of these risks—specifically high blood pressure, high cholesterol, smoking, and obesity—are preventable and controllable. Controlling these risks could reduce your risk for heart attack or stroke by more than 80%.
About 150,000 people who died from cardiovascular disease in 2009 were younger than age 65.
Heart disease is the leading cause of death for all adults in the United States. Some minority groups are more likely to be affected than others: African Americans have the highest rate of high blood pressure of all population groups, and they tend to develop it earlier in life than others.
Stroke is the fifth leading cause of death for U.S. adults, but the risk of having a stroke varies. Compared to whites, African Americans are nearly twice as likely to have a first stroke. Hispanic Americans' risk falls between the two. African Americans and Hispanics are more likely to die following a stroke than are whites.
Individuals with low incomes are much more likely to suffer from high blood pressure, high cholesterol, heart attack, and stroke than their high-income peers.
The country's highest death rates due to stroke are in the southeastern United States.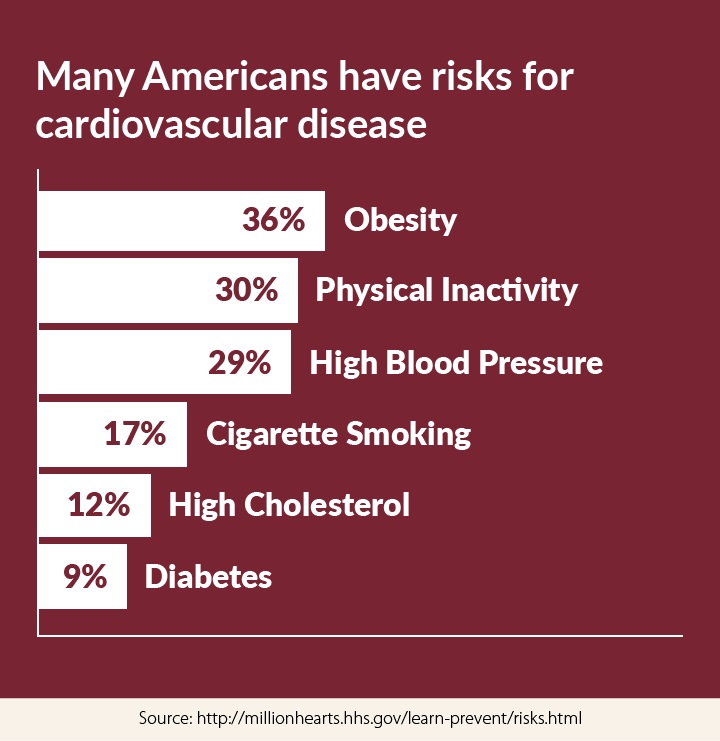 The CDC says that several health conditions, your lifestyle, and your age and family history can increase your risk for heart disease.
These are called risk factors. About half of all Americans (47%) have at least one of the three key risk factors for heart disease: high blood pressure, high cholesterol, and smoking.1
Some of the risk factors for heart disease cannot be controlled, such as your age or family history. But you can take steps to lower your risk by changing the factors you can control.
Learn more from the Centers for Disease Control and Prevention:
Related Posts Just for You
Comments
comments
r