Martha Stewart items for the home are known for being of high quality.

This is a great time to score some deals on items for your home or even a gift for that special grad or bride and groom.
Save an EXTRA 20% Off of these MARTHA STEWART Items for the Home
Extra 20% off Macy's Sale with code SUPER. Shop now at macys.com!
This code is good site-wide, not just on these deals!
These deals are at least 50% off already- they will sell out fast!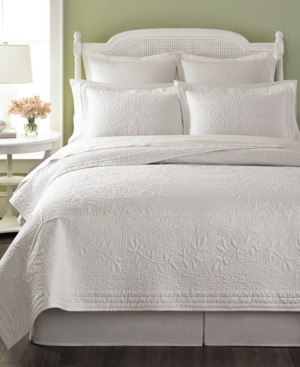 Martha Stewart Collection Flower Crown Twin Collector's Quilt Bedding
$240.00 $119.99
Martha Stewart Collection Flower Crown Twin Collector's Quilt Bedding Home – Bed & Bath Bedding – Quilts & Be… [Read more]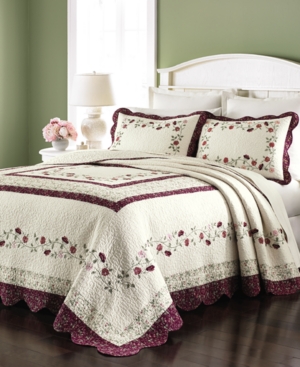 Martha Stewart Collection Prairie House Queen Bedspreads Bedding
$200.00 $99.99
Martha Stewart Collection Prairie House Queen Bedspreads Bedding Home – Bed & Bath Bedding – Quilts & Bedspreads [Read more]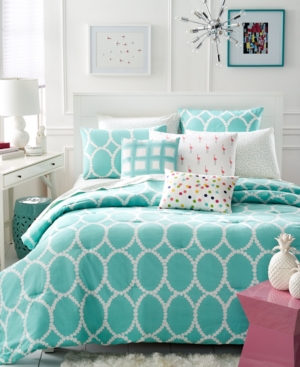 Closeout! Martha Stewart Whim Collection Mirror Mirror 4-Pc. Twin/Twin Xl Comforter Set Bedding
$140.00 $48.97
Closeout! Martha Stewart Whim Collection Mirror Mirror 4-Pc. Twin/Twin Xl Comforter Set Bedding Home – Bed & Bath… [Read more]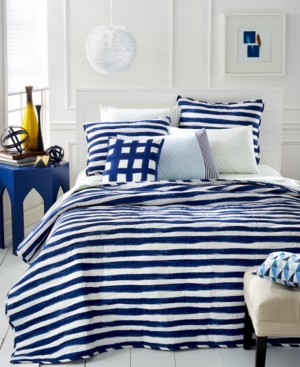 Closeout! Martha Stewart Whim Collection Different Strokes Full/Queen Quilt Bedding
$160.00 $55.97
Closeout! Martha Stewart Whim Collection Different Strokes Full/Queen Quilt Bedding Home – Bed & Bath Bedding – Q… [Read more]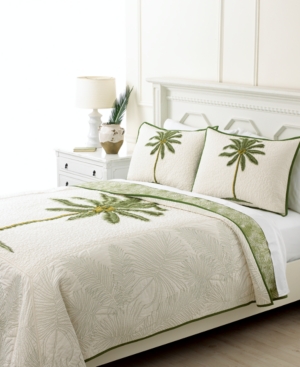 Closeout! Martha Stewart Collection Coconut Palm Full/Queen Quilt Bedding
$340.00 $118.97
Closeout! Martha Stewart Collection Coconut Palm Full/Queen Quilt Bedding Home – Bed & Bath Bedding – Quilts &amp… [Read more]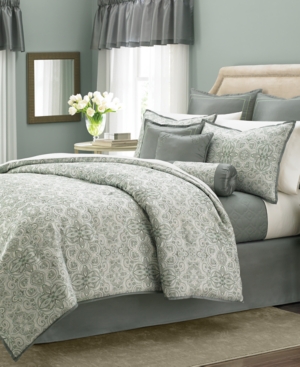 Closeout! Martha Stewart Collection Regal Filigree 22-Pc. Queen Comforter Set Bedding
$400.00 $119.97
Closeout! Martha Stewart Collection Regal Filigree 22-Pc. Queen Comforter Set Bedding Home – Bed & Bath Bedding -… [Read more]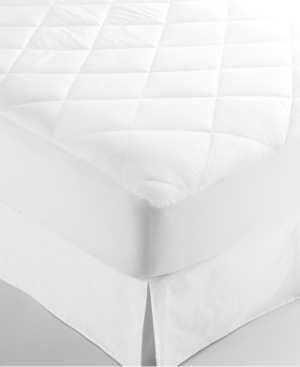 Martha Stewart Collection Allergy Wise King Mattress Pad, Only at Macy's Bedding
$140.00 $55.99
Martha Stewart Collection Allergy Wise King Mattress Pad, Only at Macy's Bedding Home – Bed & Bath Bedding Basics… [Read more]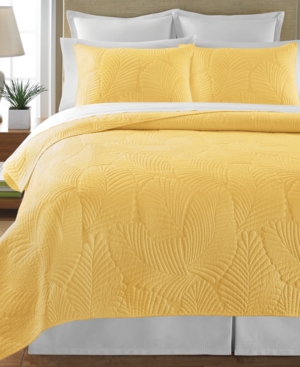 Martha Stewart Collection Atlantic Palm Yellow King Quilt Bedding
$260.00 $129.99
Martha Stewart Collection Atlantic Palm Yellow King Quilt Bedding Home – Bed & Bath Bedding – Quilts & Bedspr… [Read more]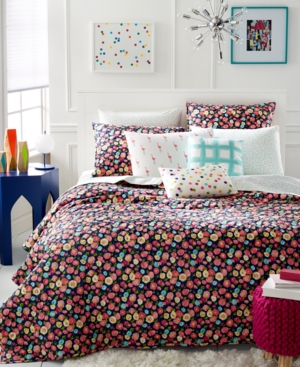 Martha Stewart Whim Collection Pretty in Poppy King Quilt Bedding
$200.00 $99.99
Martha Stewart Whim Collection Pretty in Poppy King Quilt Bedding Home – Bed & Bath Bedding – Quilts & Bedspr… [Read more]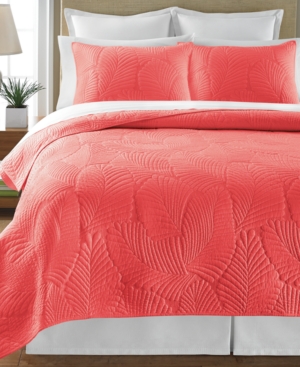 Martha Stewart Collection Atlantic Palm Coral Full/Queen Quilt Bedding
$200.00 $99.99
Martha Stewart Collection Atlantic Palm Coral Full/Queen Quilt Bedding Home – Bed & Bath Bedding – Quilts & B… [Read more]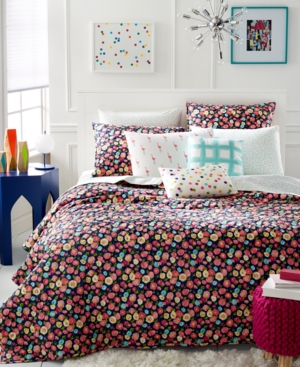 Martha Stewart Whim Collection Pretty in Poppy Full/Queen Quilt Bedding
$160.00 $79.99
Martha Stewart Whim Collection Pretty in Poppy Full/Queen Quilt Bedding Home – Bed & Bath Bedding – Quilts & … [Read more]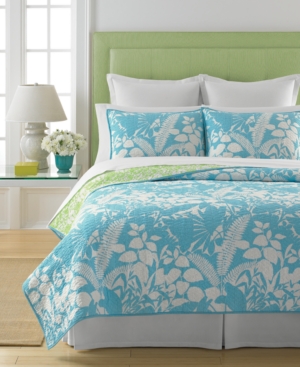 Martha Stewart Collection Paradise Palm Full/Queen Quilt Bedding
$200.00 $99.99
Martha Stewart Collection Paradise Palm Full/Queen Quilt Bedding Home – Bed & Bath Bedding – Quilts & Bedspreads [Read more]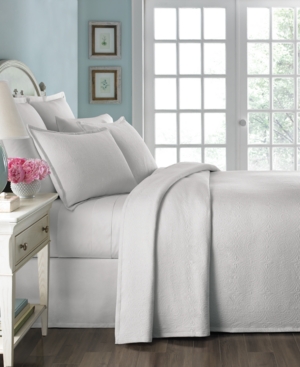 Closeout! Martha Stewart Collection Athens Medallion Twin Matelasse Bedspread Bedding
$200.00 $69.97
Closeout! Martha Stewart Collection Athens Medallion Twin Matelasse Bedspread Bedding Home – Bed & Bath Bedding -… [Read more]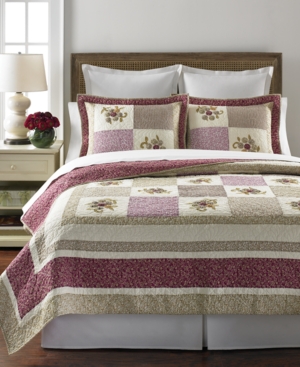 Closeout! Martha Stewart Collection Trailing Flowers Full/Queen Collector's Quilt Bedding
$320.00 $111.97
Closeout! Martha Stewart Collection Trailing Flowers Full/Queen Collector's Quilt Bedding Home – Bed & Bath Beddi… [Read more]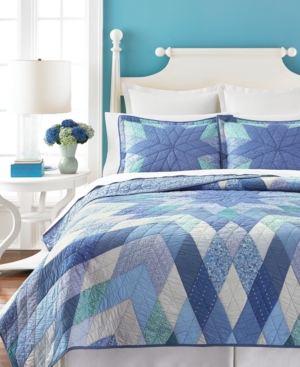 Closeout! Martha Stewart Collection Diamond Star Twin Collector's Quilt Bedding
$200.00 $69.97
Closeout! Martha Stewart Collection Diamond Star Twin Collector's Quilt Bedding Home – Bed & Bath Bedding – Quilt… [Read more]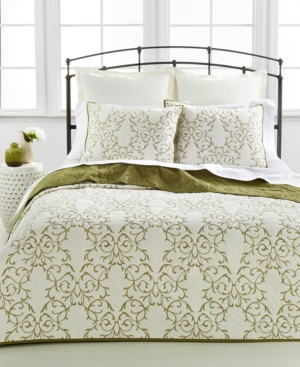 Closeout! Martha Stewart Collection Chateau Green Standard Sham Bedding
$70.00 $23.97
Closeout! Martha Stewart Collection Chateau Green Standard Sham Bedding Home – Bed & Bath Bedding – Bed in a Bag [Read more]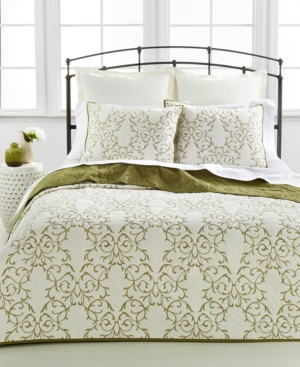 Closeout! Martha Stewart Collection Chateau Green King Quilt Bedding
$340.00 $118.97
Closeout! Martha Stewart Collection Chateau Green King Quilt Bedding Home – Bed & Bath Bedding – Bed in a Bag [Read more]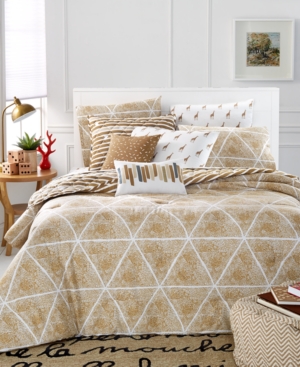 Closeout! Martha Stewart Collection Whim Bespeckled 5 Pc King Comforter Set, Only at Macy's Bedding
$200.00 $62.97
Closeout! Martha Stewart Collection Whim Bespeckled 5 Pc King Comforter Set, Only at Macy's Bedding Home – Bed & … [Read more]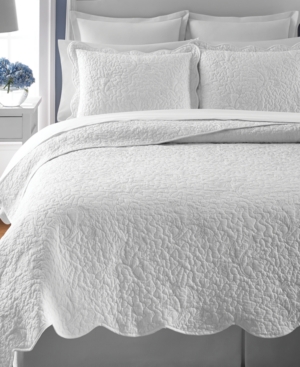 Martha Stewart Collection Whisper Leaves White Twin Quilt, Only at Macy's Bedding
$160.00 $79.99
Martha Stewart Collection Whisper Leaves White Twin Quilt, Only at Macy's Bedding Home – Bed & Bath Bedding – Qui… [Read more]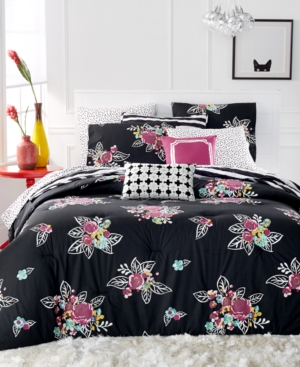 Closeout! Martha Stewart Collection Whim Night Blooms 5 -Pc. King Comforter Set, Only at Macy's Bedding
$200.00 $69.97
Closeout! Martha Stewart Collection Whim Night Blooms 5 -Pc. King Comforter Set, Only at Macy's Bedding Home – Bed &a… [Read more]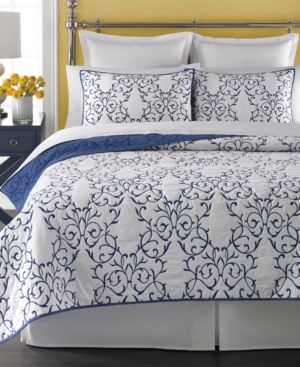 Martha Stewart Collection Chateau Full/Queen Quilt Bedding
$280.00 $139.99
Martha Stewart Collection Chateau Full/Queen Quilt Bedding Home – Bed & Bath Bedding – Quilts & Bedspreads [Read more]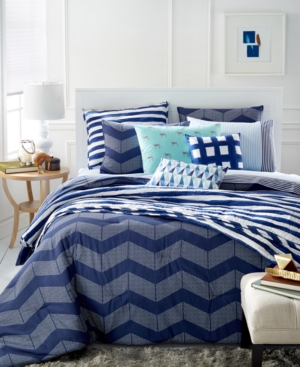 Martha Stewart Whim Collection Spot Chevron 5-Pc. King Duvet Set Bedding
$220.00 $76.97
Martha Stewart Whim Collection Spot Chevron 5-Pc. King Duvet Set Bedding Home – Bed & Bath Bedding – Bed in a Bag [Read more]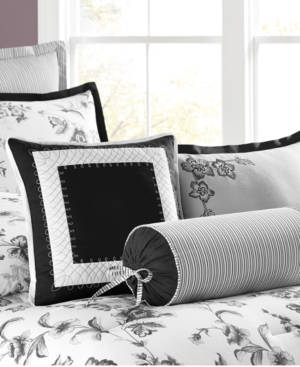 Closeout! Martha Stewart Collection Dusk Blossom 3 Piece Decorative Pillow Set Bedding
$100.00 $49.97
Closeout! Martha Stewart Collection Dusk Blossom 3 Piece Decorative Pillow Set Bedding Home – Bed & Bath Bedding … [Read more]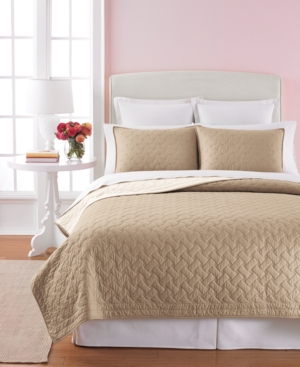 Martha Stewart Collection Basket Stitch King Quilt (Tan) Bedding
$260.00 $129.99
Martha Stewart Collection Basket Stitch King Quilt (Tan) Bedding Home – Bed & Bath Bedding – Quilts & Bedspreads [Read more]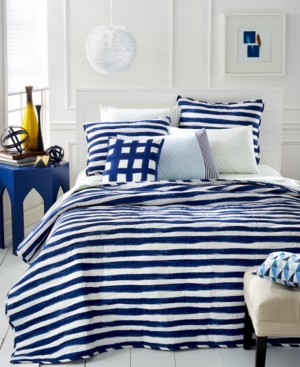 Closeout! Martha Stewart Whim Collection Different Strokes Twin/Twin Xl Quilt Bedding
$120.00 $41.97
Closeout! Martha Stewart Whim Collection Different Strokes Twin/Twin Xl Quilt Bedding Home – Bed & Bath Bedding -… [Read more]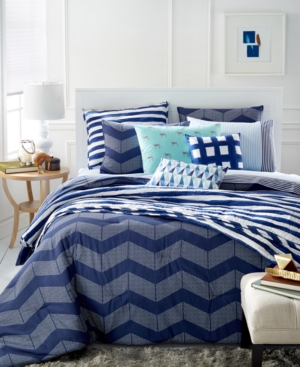 Martha Stewart Whim Collection Spot Chevron 5-Pc. King Comforter Set Bedding
$200.00 $69.97
Martha Stewart Whim Collection Spot Chevron 5-Pc. King Comforter Set Bedding Home – Bed & Bath Bedding – Bed in a… [Read more]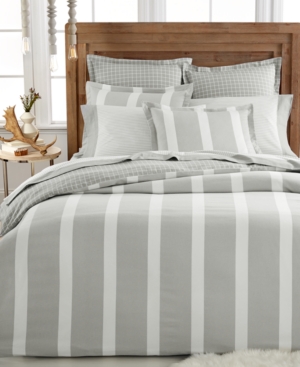 Closeout! Martha Stewart Collection Willow Stripe Flannel Standard Sham Bedding
$60.00 $29.97
Closeout! Martha Stewart Collection Willow Stripe Flannel Standard Sham Bedding Home – Bed & Bath Bedding – Beddi… [Read more]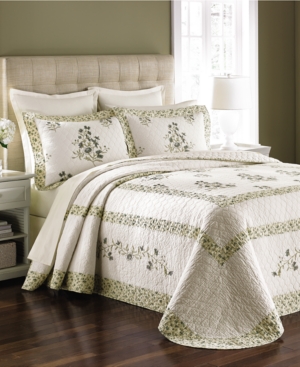 Martha Stewart Collection Abbey Garden Queen Bedspread (Only at Macy's) Bedding
$200.00 $99.99
Martha Stewart Collection Abbey Garden Queen Bedspread (Only at Macy's) Bedding Home – Bed & Bath Bedding – Quilt… [Read more]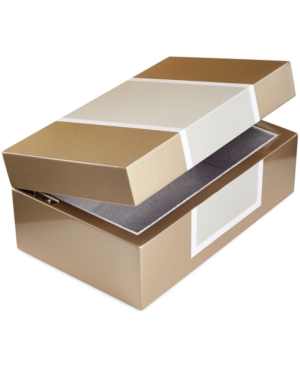 Closeout! Martha Stewart Collection Small Lacquer Box
$50.00 $6.99
Closeout! Martha Stewart Collection Small Lacquer Box Home – Misc More for the Home – Home Decor – Collections [Read more]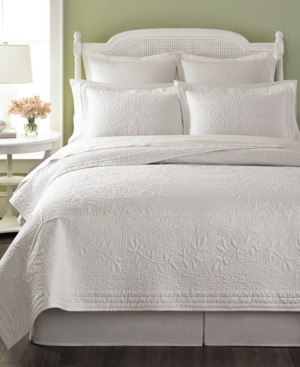 Martha Stewart Collection Flower Crown King Collector's Quilt Bedding
$400.00 $199.99
Martha Stewart Collection Flower Crown King Collector's Quilt Bedding Home – Bed & Bath Bedding – Quilts & Be… [Read more]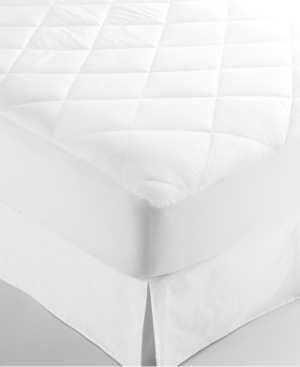 Martha Stewart Collection Allergy Wise California King Mattress Pad, Only at Macy's Bedding
$140.00 $55.99
Martha Stewart Collection Allergy Wise California King Mattress Pad, Only at Macy's Bedding Home – Bed & Bath Bed… [Read more]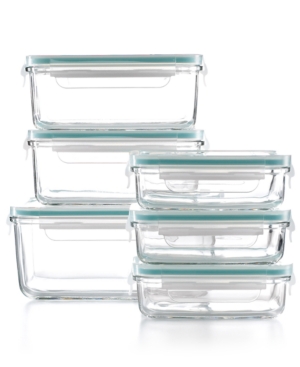 Martha Stewart Collection 12 Piece Glass Food Storage Container Set, Only at Macy's
$49.99 $24.99
Martha Stewart Collection 12 Piece Glass Food Storage Container Set, Only at Macy's Home – Kitchen Kitchen Categories… [Read more]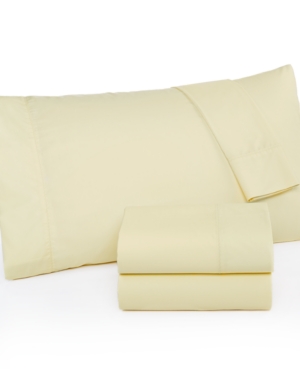 Closeout! Martha Stewart Collection 360 Thread Count Percale Twin Sheet Set Bedding
$50.00 $23.97
Closeout! Martha Stewart Collection 360 Thread Count Percale Twin Sheet Set Bedding Home – Bed & Bath Bedding – S… [Read more]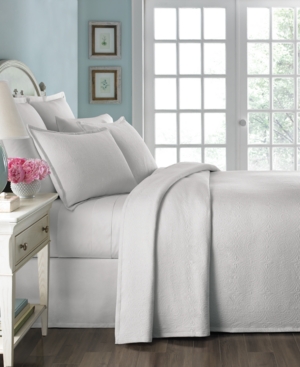 Closeout! Martha Stewart Collection Athens Medallion Full Matelasse Bedspread Bedding
$260.00 $83.97
Closeout! Martha Stewart Collection Athens Medallion Full Matelasse Bedspread Bedding Home – Bed & Bath Bedding -… [Read more]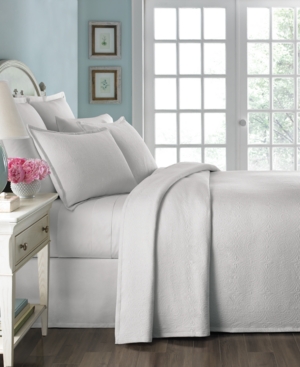 Closeout! Martha Stewart Collection Athens Medallion King Matelasse Bedspread Bedding
$280.00 $111.97
Closeout! Martha Stewart Collection Athens Medallion King Matelasse Bedspread Bedding Home – Bed & Bath Bedding -… [Read more]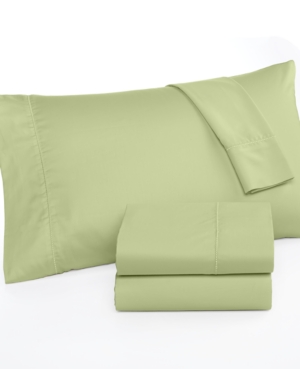 Closeout! Martha Stewart Collection 300 Thread Count Cotton King Flat Sheet Bedding
$80.00 $27.97
Closeout! Martha Stewart Collection 300 Thread Count Cotton King Flat Sheet Bedding Home – Bed & Bath Bedding – S… [Read more]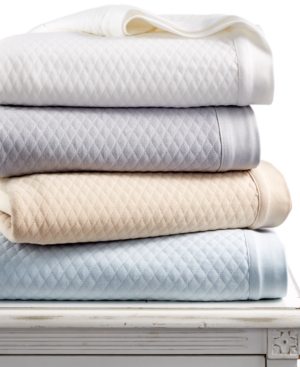 Martha Stewart Collection Quilted Triple Knit Full/Queen Blanket Bedding
$160.00 $63.99
Martha Stewart Collection Quilted Triple Knit Full/Queen Blanket Bedding Home – Bed & Bath Bedding Basics – Blank… [Read more]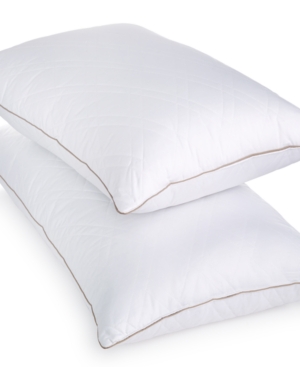 Martha Stewart Collection Allergy Wise Traditional Down Alternative Standard/Queen Pillow Bedding
$40.00 $15.99
Martha Stewart Collection Allergy Wise Traditional Down Alternative Standard/Queen Pillow Bedding Home – Bed & Ba… [Read more]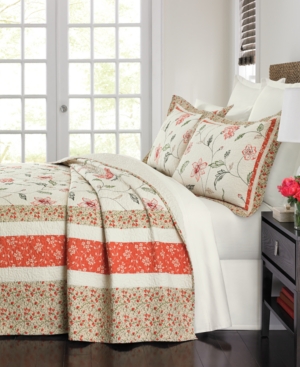 Martha Stewart Collection Strawberry Meadow King Bedspread Bedding
$240.00 $83.97
Martha Stewart Collection Strawberry Meadow King Bedspread Bedding Home – Bed & Bath Bedding – Quilts & Bedsp… [Read more]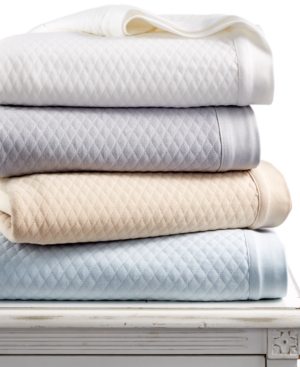 Martha Stewart Collection Quilted Triple Knit King Blanket Bedding
$200.00 $79.99
Martha Stewart Collection Quilted Triple Knit King Blanket Bedding Home – Bed & Bath Bedding Basics – Blankets &a… [Read more]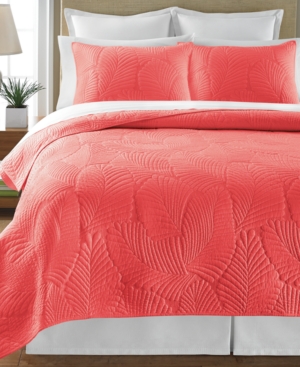 Martha Stewart Collection Atlantic Palm Coral Twin Quilt Bedding
$160.00 $79.99
Martha Stewart Collection Atlantic Palm Coral Twin Quilt Bedding Home – Bed & Bath Bedding – Quilts & Bedspreads [Read more]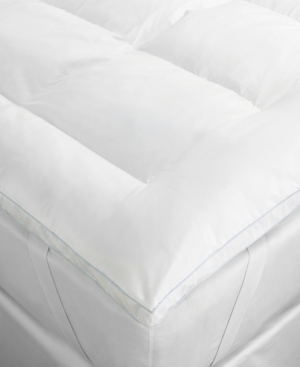 Closeout! Martha Stewart Collection Allergy Wise Gel Infused California King Fiberbed Bedding
$280.00 $97.97
Closeout! Martha Stewart Collection Allergy Wise Gel Infused California King Fiberbed Bedding Home – Bed & Bath B… [Read more]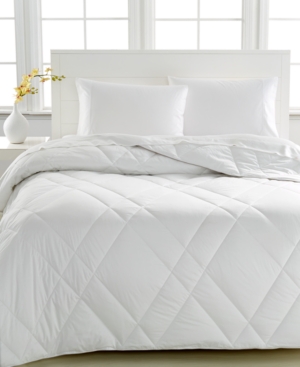 Martha Stewart Collection Allergy Wise Down Alternative Twin Comforter Bedding
$180.00 $89.99
Martha Stewart Collection Allergy Wise Down Alternative Twin Comforter Bedding Home – Bed & Bath Bedding Basics -… [Read more]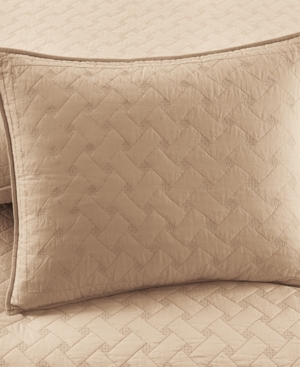 Martha Stewart Collection Basket Stitch Standard Sham (Tan) Bedding
$60.00 $39.99
Martha Stewart Collection Basket Stitch Standard Sham (Tan) Bedding Home – Bed & Bath Bedding – Quilts & Beds… [Read more]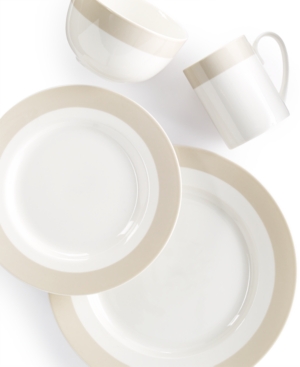 Martha Stewart Collection Classic Band Gray 4-Piece Place Setting
$52.00 $35.97
Martha Stewart Collection Classic Band Gray 4-Piece Place Setting Home – Dining & Entertaining Tableware – Dinner… [Read more]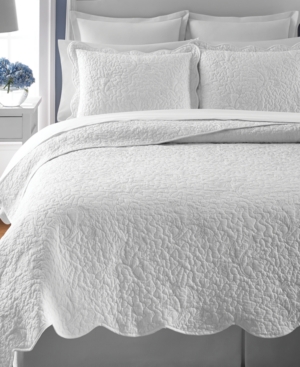 Martha Stewart Collection Whisper Leaves White Full/Queen Quilt (Only at Macy's) Bedding
$200.00 $99.99
Martha Stewart Collection Whisper Leaves White Full/Queen Quilt (Only at Macy's) Bedding Home – Bed & Bath Beddin… [Read more]
Closeout! Martha Stewart Collection Whim Straight Arrow Twin/Twin Xl Quilt, Only at Macy's Bedding
$120.00 $27.97
Closeout! Martha Stewart Collection Whim Straight Arrow Twin/Twin Xl Quilt, Only at Macy's Bedding Home – Bed & B… [Read more]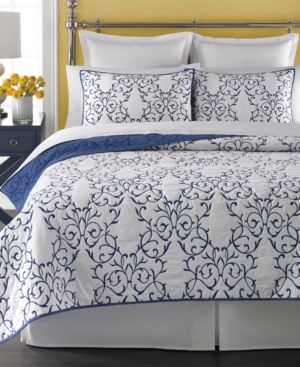 Martha Stewart Collection Chateau Twin Quilt Bedding
$200.00 $99.99
Martha Stewart Collection Chateau Twin Quilt Bedding Home – Bed & Bath Bedding – Quilts & Bedspreads [Read more]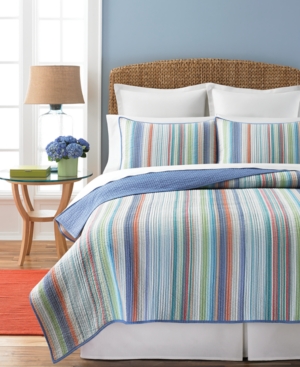 Martha Stewart Collection Chatham Stripe Full/Queen Quilt Bedding
$200.00 $99.99
Martha Stewart Collection Chatham Stripe Full/Queen Quilt Bedding Home – Bed & Bath Bedding – Quilts & Bedspr… [Read more]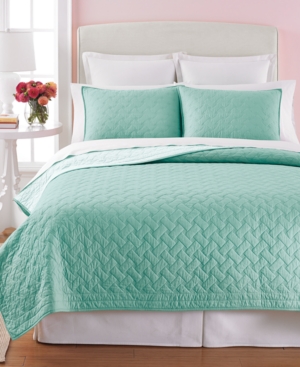 Martha Stewart Collection Basket Stitch Full/Queen Quilt (Aqua) Bedding
$200.00 $99.99
Martha Stewart Collection Basket Stitch Full/Queen Quilt (Aqua) Bedding Home – Bed & Bath Bedding – Quilts & … [Read more]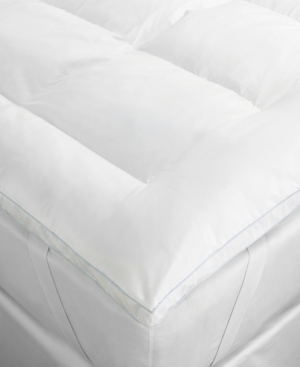 Closeout! Martha Stewart Collection Allergy Wise Gel Infused Full Fiberbed Bedding
$240.00 $83.97
Closeout! Martha Stewart Collection Allergy Wise Gel Infused Full Fiberbed Bedding Home – Bed & Bath Bedding Basi… [Read more]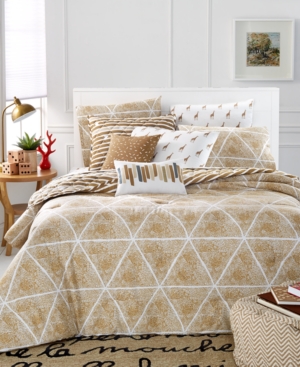 Closeout! Martha Stewart Collection Whim, Bespeckled 4 Pc Twin/Twin Xl Comforter Set Bedding
$140.00 $43.97
Closeout! Martha Stewart Collection Whim, Bespeckled 4 Pc Twin/Twin Xl Comforter Set Bedding Home – Bed & Bath Be… [Read more]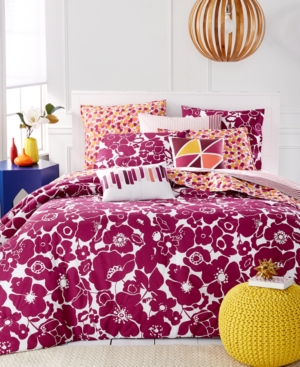 Closeout! Martha Stewart Whim Collection Floral Fusions 4 Pc Twin/Twin Xl Comforter Set Bedding
$140.00 $38.97
Closeout! Martha Stewart Whim Collection Floral Fusions 4 Pc Twin/Twin Xl Comforter Set Bedding Home – Bed & Bath… [Read more]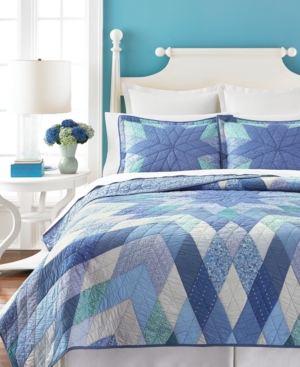 Closeout! Martha Stewart Collection Diamond Star King Collector's Quilt Bedding
$380.00 $132.97
Closeout! Martha Stewart Collection Diamond Star King Collector's Quilt Bedding Home – Bed & Bath Bedding – Quilt… [Read more]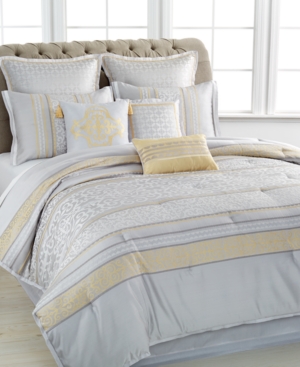 Closeout! Martha Stewart Collection Palace Scroll 9 Piece Queen Comforter Set Bedding
$340.00 $118.97
Closeout! Martha Stewart Collection Palace Scroll 9 Piece Queen Comforter Set Bedding Home – Bed & Bath Bedding -… [Read more]
Martha Stewart Collection Paradise Palm Standard Sham Bedding
$60.00 $29.99
Martha Stewart Collection Paradise Palm Standard Sham Bedding Home – Bed & Bath Bedding – Quilts & Bedspreads [Read more]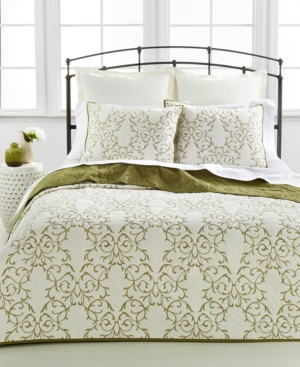 Closeout! Martha Stewart Collection Chateau Green Full/Queen Quilt Bedding
$280.00 $97.97
Closeout! Martha Stewart Collection Chateau Green Full/Queen Quilt Bedding Home – Bed & Bath Bedding – Bed in a Bag [Read more]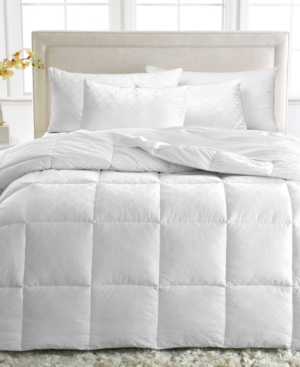 Martha Stewart Collection Dream Comfort Down Alternative King Comforter Bedding
$300.00 $119.99
Martha Stewart Collection Dream Comfort Down Alternative King Comforter Bedding Home – Bed & Bath Bedding Basics … [Read more]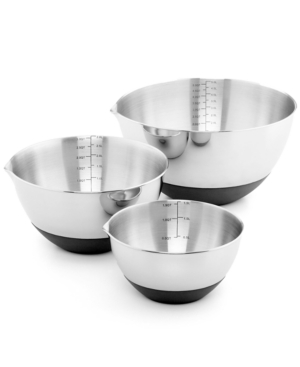 Martha Stewart Collection Set of 3 Non-Skid Mixing Bowls with Measurements, Only at Macy's
$39.99 $19.99
Martha Stewart Collection Set of 3 Non-Skid Mixing Bowls with Measurements, Only at Macy's Home – Kitchen Kitchen Cat… [Read more]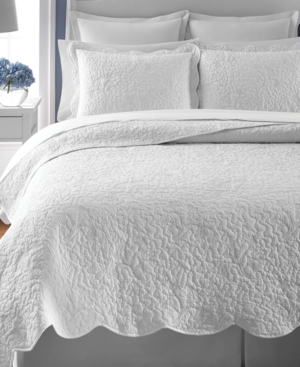 Martha Stewart Collection Whisper Leaves White Standard Sham (Only at Macy's) Bedding
$60.00 $29.99
Martha Stewart Collection Whisper Leaves White Standard Sham (Only at Macy's) Bedding Home – Bed & Bath Bedding -… [Read more]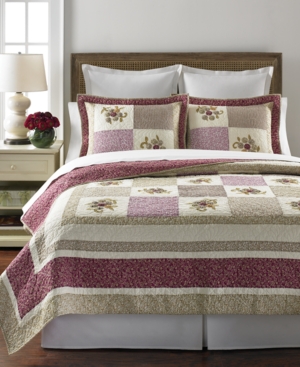 Closeout! Martha Stewart Collection Trailing Flowers Twin Collector's Quilt Bedding
$200.00 $69.97
Closeout! Martha Stewart Collection Trailing Flowers Twin Collector's Quilt Bedding Home – Bed & Bath Bedding – Q… [Read more]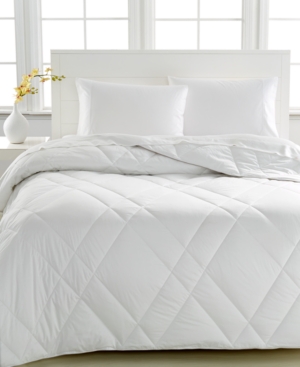 Martha Stewart Collection Allergy Wise Down Alternative King Comforter Bedding
$240.00 $119.99
Martha Stewart Collection Allergy Wise Down Alternative King Comforter Bedding Home – Bed & Bath Bedding Basics -… [Read more]
Martha Stewart Collection Allergy Wise Gusseted Down Alternative Standard/Queen Pillow Bedding
$50.00 $24.99
Martha Stewart Collection Allergy Wise Gusseted Down Alternative Standard/Queen Pillow Bedding Home – Bed & Bath … [Read more]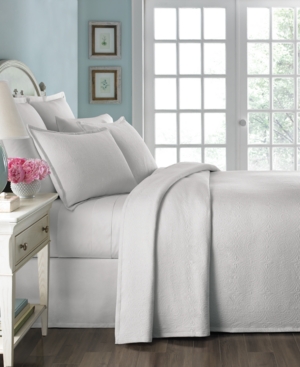 Closeout! Martha Stewart Collection Athens Medallion Queen Matelasse Bedspread Bedding
$260.00 $90.97
Closeout! Martha Stewart Collection Athens Medallion Queen Matelasse Bedspread Bedding Home – Bed & Bath Bedding … [Read more]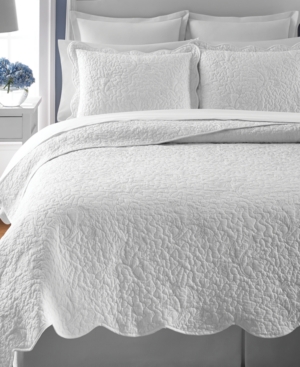 Martha Stewart Collection Whisper Leaves White King Quilt (Only at Macy's) Bedding
$260.00 $129.99
Martha Stewart Collection Whisper Leaves White King Quilt (Only at Macy's) Bedding Home – Bed & Bath Bedding – Qu… [Read more]
Comments
comments
r