Have you ever seen birds coming in or out of a birdhouse?
For those of use who enjoy the hobby of bird watching, having a birdhouse can make the hobby even more enjoyable.
Super Cool Birdhouses They Will Love
Placing a birdhouse in your yard is a wonderful way to add to the decor in your yard.
Before you purchase that perfect birdhouse, consider these factors.
What to look for in a birdhouse:
A birdhouse that goes with the decor of your yard.
A birdhouse should have an entry hole large enough to accommodate a bird.
Look for a house that has an option for you to open it up if needed.
Choose a birdhouse that has ventilation for the birds.
Dimensions of the house matters especially if you are trying to attract a certain bird.
Choose a house that is made from durable products, such as wood, that contain no toxins.
Here are some great ideas for birdhouses:
The Giulia Pot brings a classical touch into your setting. The pot features lovely decorative swags that create charm and elegance. This planter will look beautiful filled with blooms and greens, creating a wonderful focal point for your setting. Giulia Pot… [Read more]
The Deruta Lemon Cistern brings a charming and elegant accent to your garden setting. Featuring a flat back side, this planter works perfectly against a wall. Fill this classical planter with beautiful blooms and greens and create the perfect focal point fo… [Read more]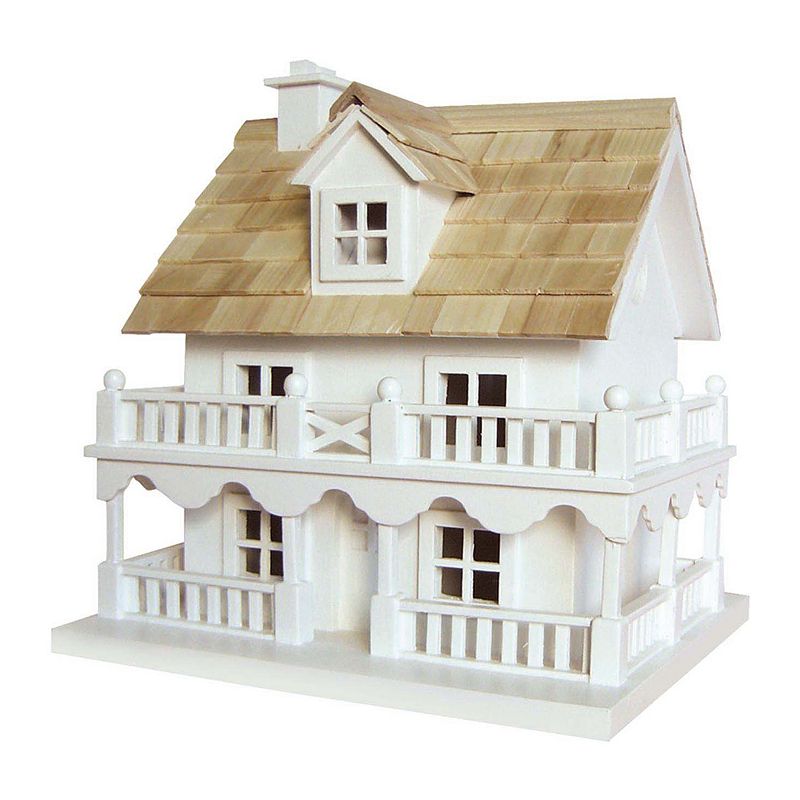 Home Bazaar Indoor / Outdoor Novelty Cottage Bird House, White
Give your flying visitors an upgrade with this Home Bazaar novelty cottage. Non-toxic exterior grade paint Removable back wall 11"H x 10"W x 9"D Wood, polyresin Hand wash Manufacturer's 1-year limited warrantyFor warranty information please c… [Read more]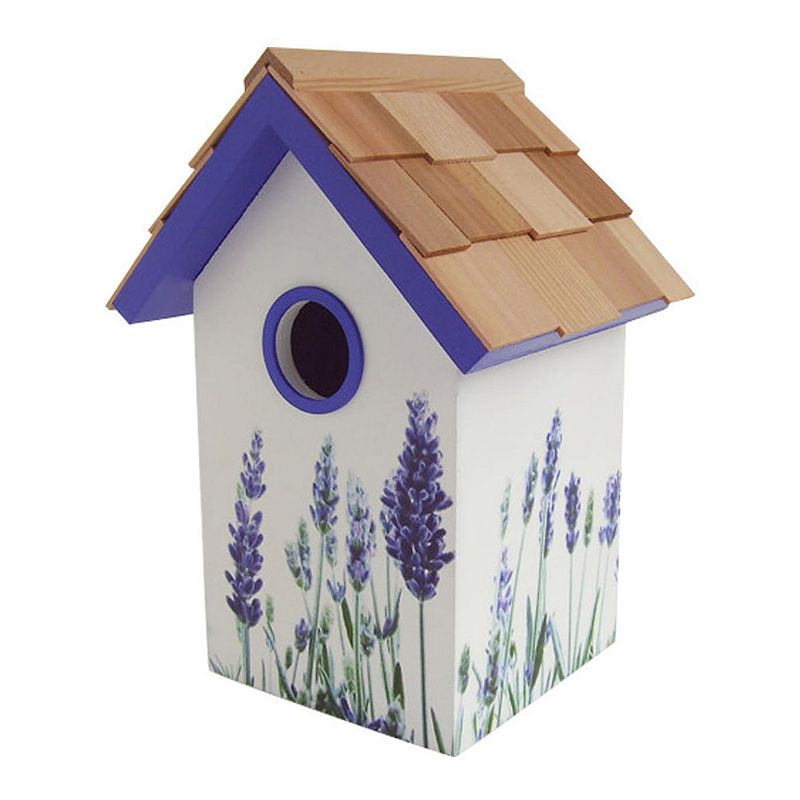 Home Bazaar Indoor / Outdoor Floral Bird House, Purple
Pick your favorite floral with these beautiful Home Bazaar floral bird houses. PRODUCT FEATURES Non-toxic exterior grade paint PRODUCT DETAILS 9.25"H x 6.75"W x 5.5"D Wood, polyresin Hand wash Manufacturer's 1-year limited warranty MODEL NUMB… [Read more]
The Rose Urn is a beautiful and elegant planter for your garden setting. The ornate rose on the planter is absolutely stunning, and will create a wonderful focal point for your setting. It can be left empty or filled with beautiful flowers adding the perfec… [Read more]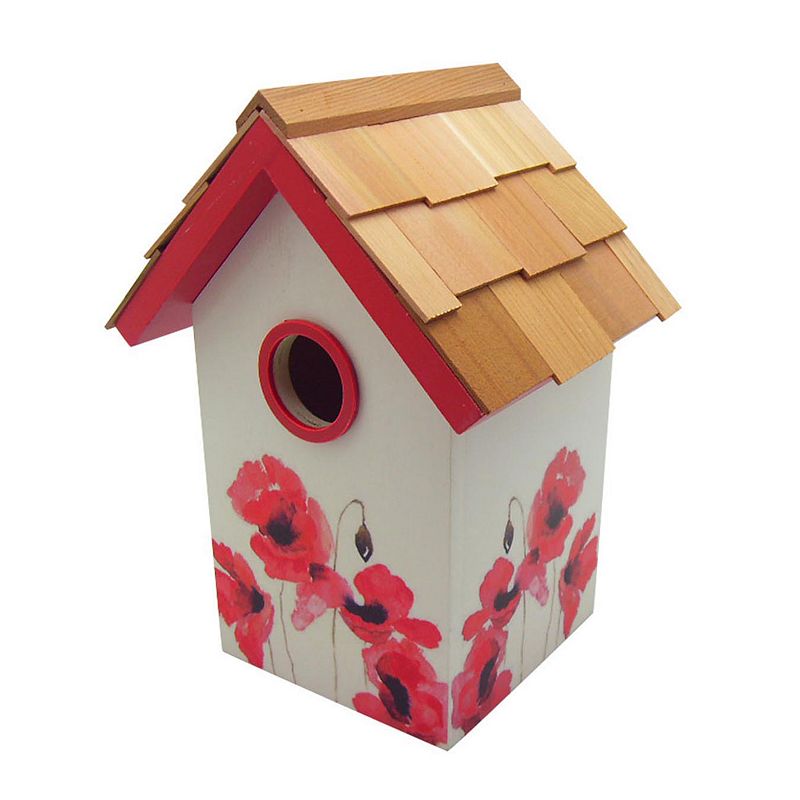 Home Bazaar Indoor / Outdoor Floral Bird House (Poppy)
Pick your favorite floral with these beautiful Home Bazaar floral bird houses. PRODUCT FEATURES Non-toxic exterior grade paint PRODUCT DETAILS 9.25"H x 6.75"W x 5.5"D Wood, polyresin Hand wash Manufacturer's 1-year limited warranty MODEL NUMB… [Read more]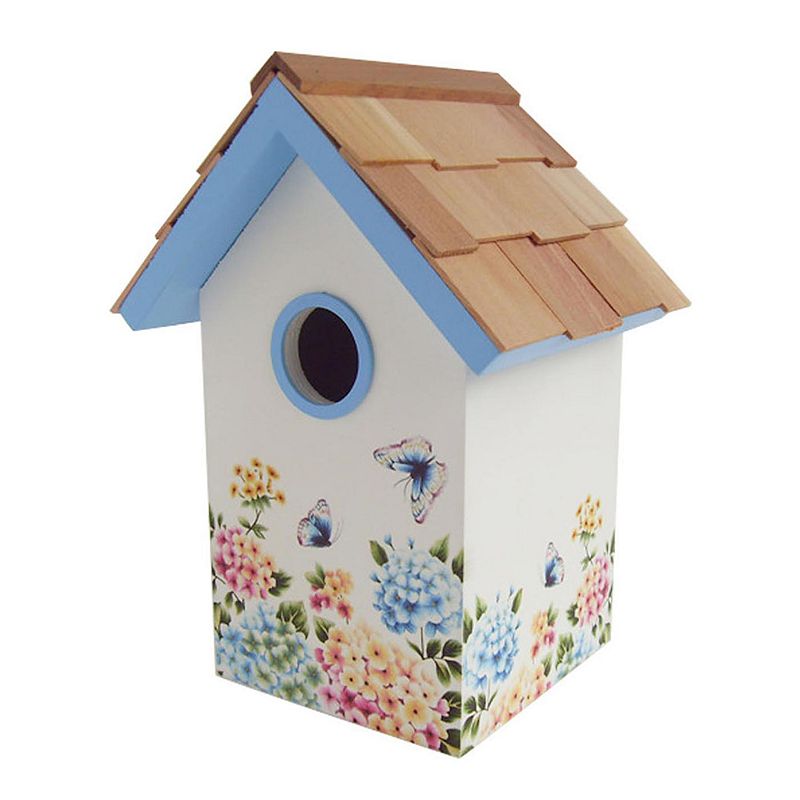 Home Bazaar Indoor / Outdoor Floral Bird House (Hydrangea)
Pick your favorite floral with these beautiful Home Bazaar floral bird houses. PRODUCT FEATURES Non-toxic exterior grade paint PRODUCT DETAILS 9.25"H x 6.75"W x 5.5"D Wood, polyresin Hand wash Manufacturer's 1-year limited warranty MODEL NUMB… [Read more]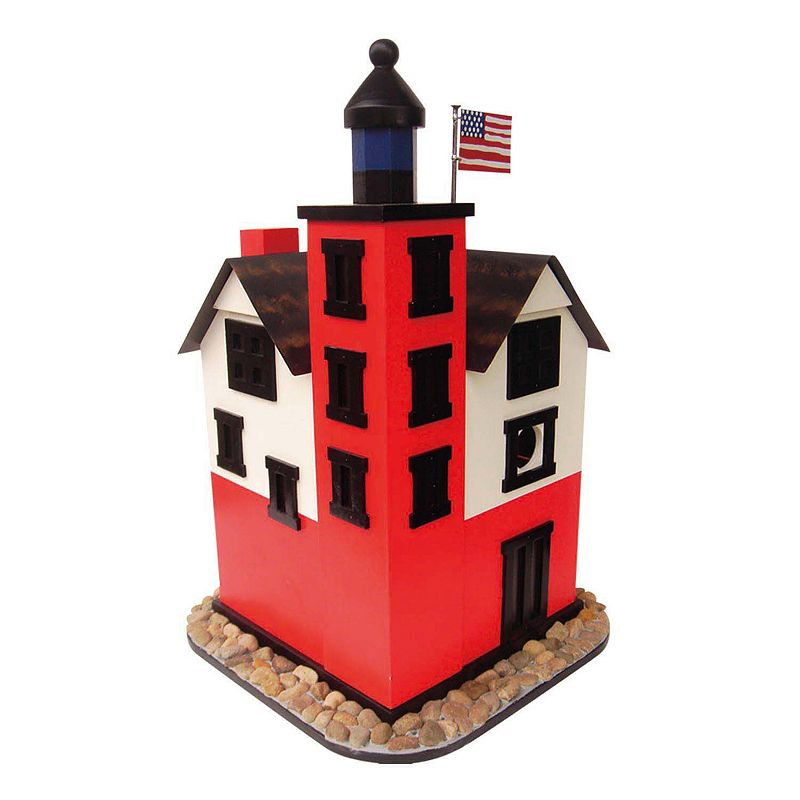 Home Bazaar Indoor / Outdoor Round Island Lighthouse Bird House, Red Black
This adorable Home Bazaar bird house is inspired by the historic lighthouse off the coast of Mackinac Island. Non-toxic exterior grade paint Removable back wall 17"H x 11"W x 11"D Wood, polyresin Hand wash Manufacturer's 1-year limited warran… [Read more]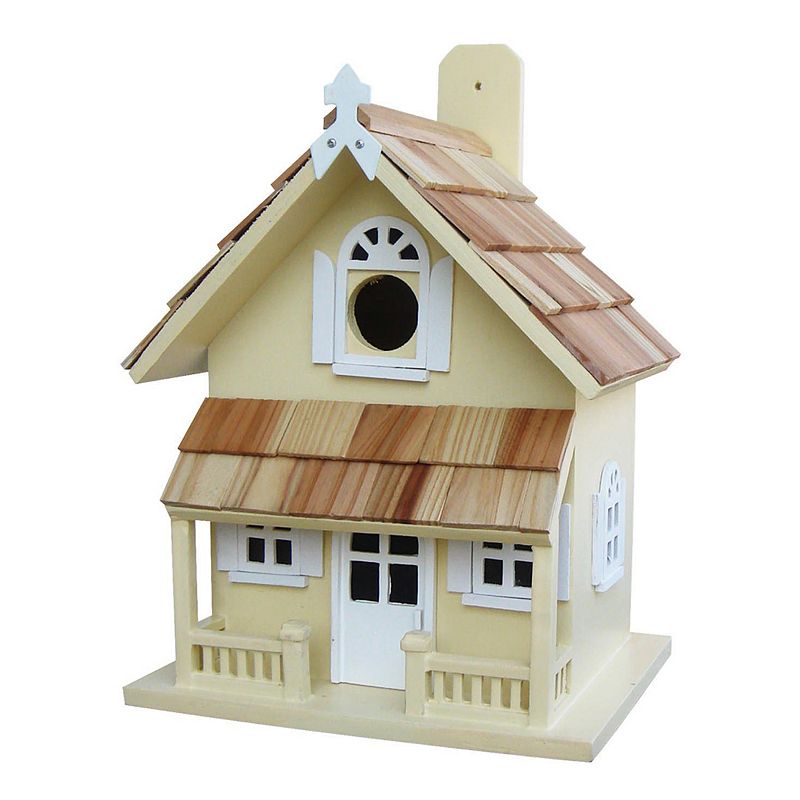 Home Bazaar Indoor / Outdoor Victorian Cottage Bird House, Yellow
Your neighborhood flock will love this Home Bazaar Victorian cottage. Non-toxic exterior grade paint Removable back wall 10.25"H x 8.25"W x 6"D Wood, polyresin Hand wash Manufacturer's 1-year limited warrantyFor warranty information please cl… [Read more]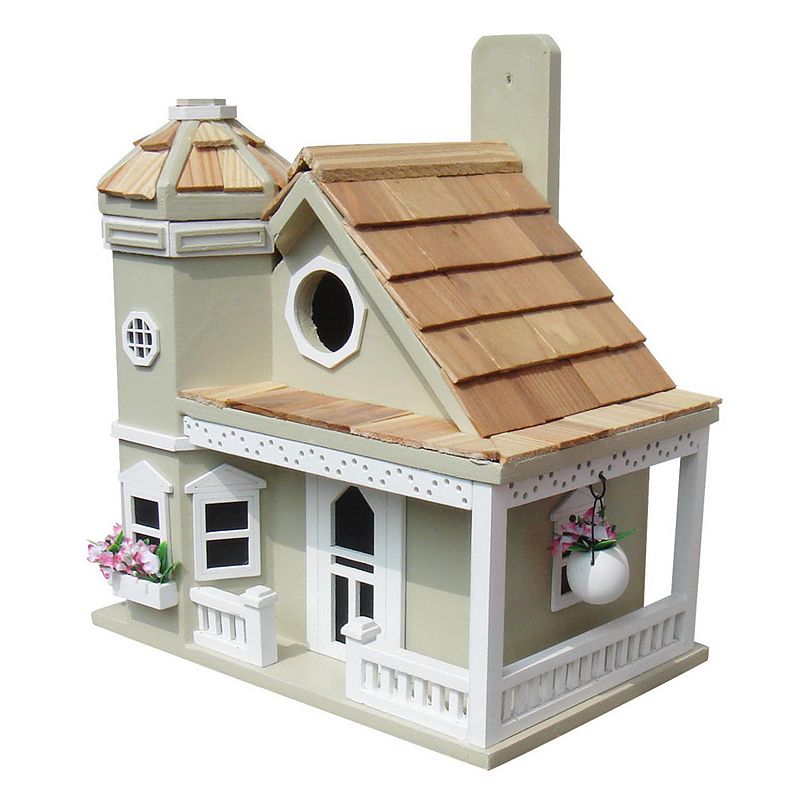 Home Bazaar Indoor / Outdoor Flower Pot Cottage Bird House, Green
Give the birds something to tweet about with this Home Bazaar flower pot cottage birdhouse. Non-toxic exterior grade paint Removable back wall 9"H x 10"W x 9"D Wood, polyresin Hand wash Manufacturer's 1-year limited warrantyFor warranty infor… [Read more]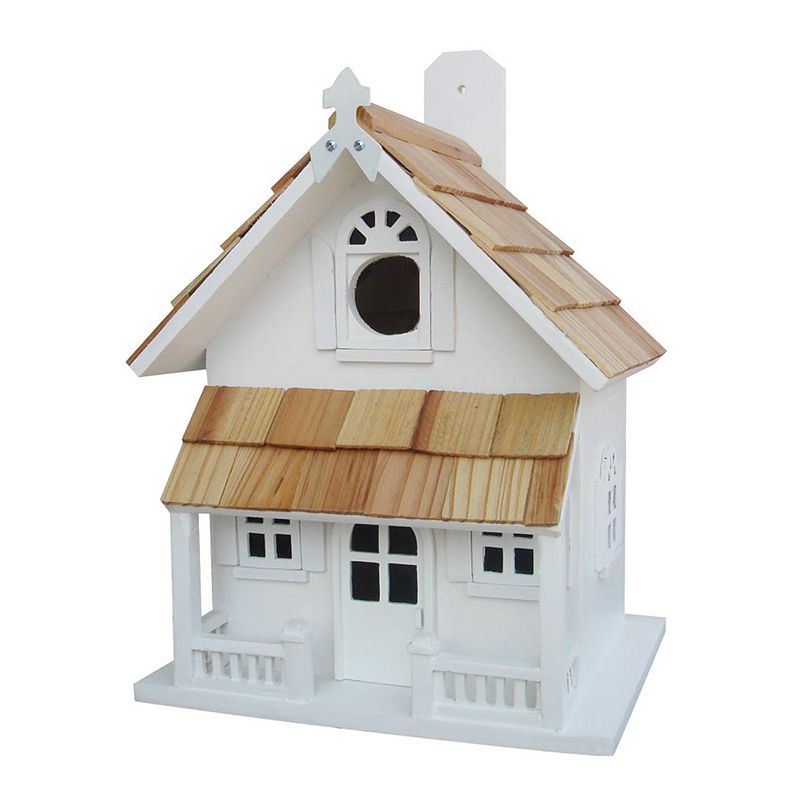 Home Bazaar Indoor / Outdoor Victorian Cottage Bird House, White
Your neighborhood flock will love this Home Bazaar Victorian cottage. Non-toxic exterior grade paint Removable back wall 10.25"H x 8.25"W x 6"D Wood, polyresin Hand wash Manufacturer's 1-year limited warrantyFor warranty information please cl… [Read more]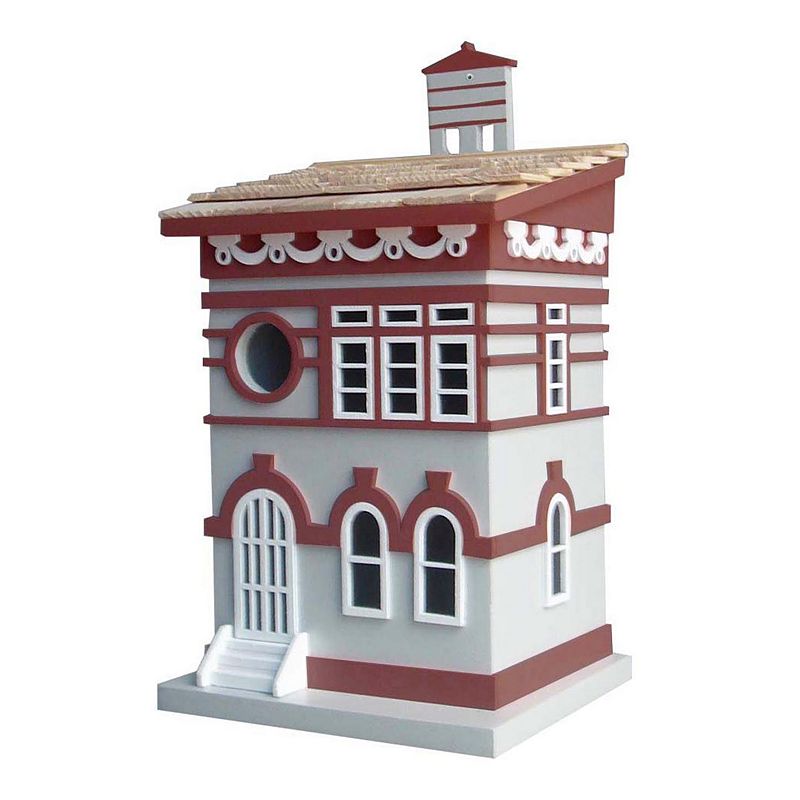 Home Bazaar Indoor / Outdoor Brooklyn Townhouse Bird House, Brown Rose
Avian friends will love to gather at this Home Bazaar bird house. Non-toxic exterior grade paint 12.125"H x 6.5"W x 5.875"D Wood, polyresin Hand wash Manufacturer's 1-year limited warrantyFor warranty information please click here Model no. H… [Read more]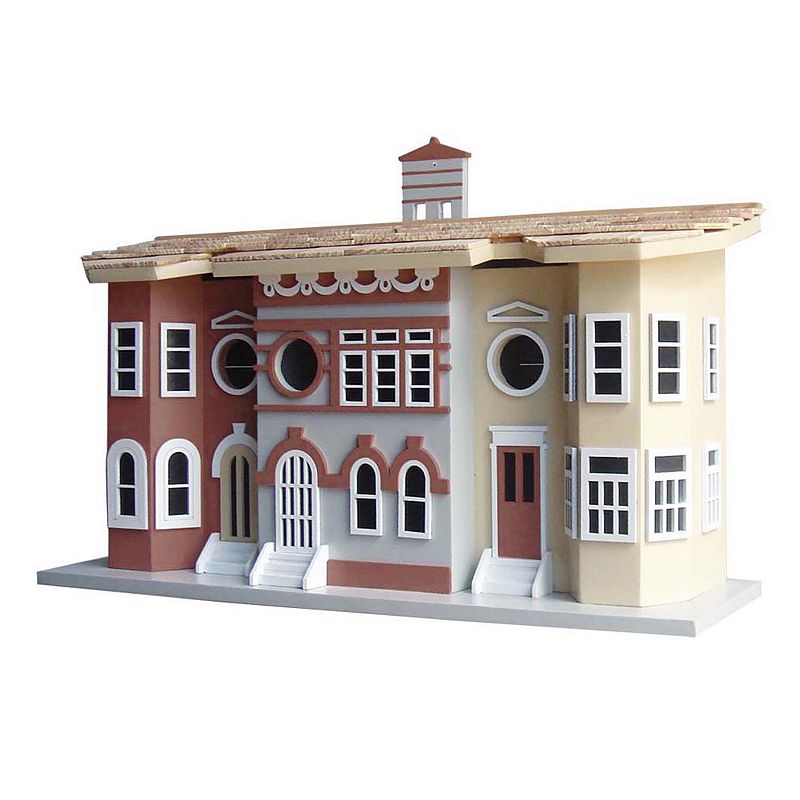 Home Bazaar Indoor / Outdoor Brooklyn Row Bird House, Brown Rose
Wrens, chickadees and nuthatches will come flocking to your yard when they see this Home Bazaar Brooklyn Row bird house. Non-toxic exterior grade paint 11.25"H x 17"W x 5.625"D Wood, polyresin Hand wash Manufacturer's 1-year limited warrantyF… [Read more]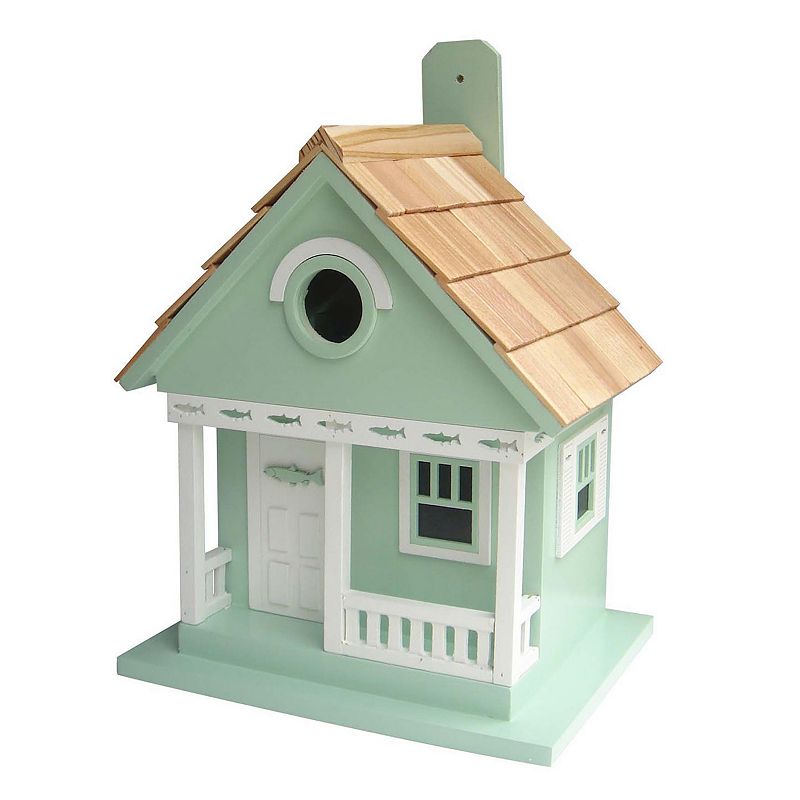 Home Bazaar Indoor / Outdoor Lake Trout Cottage Bird House, Turquoise/Blue (Turq/Aqua)
The swing-up paddle-board makes hanging this beautiful Home Bazaar birdhouse as easy as a walk along the lakeshore. Non-toxic exterior grade paint 9.5"H x 8.25"W x 6.5"D Wood, polyresin Hand wash Manufacturer's 1-year limited warrantyFor warr… [Read more]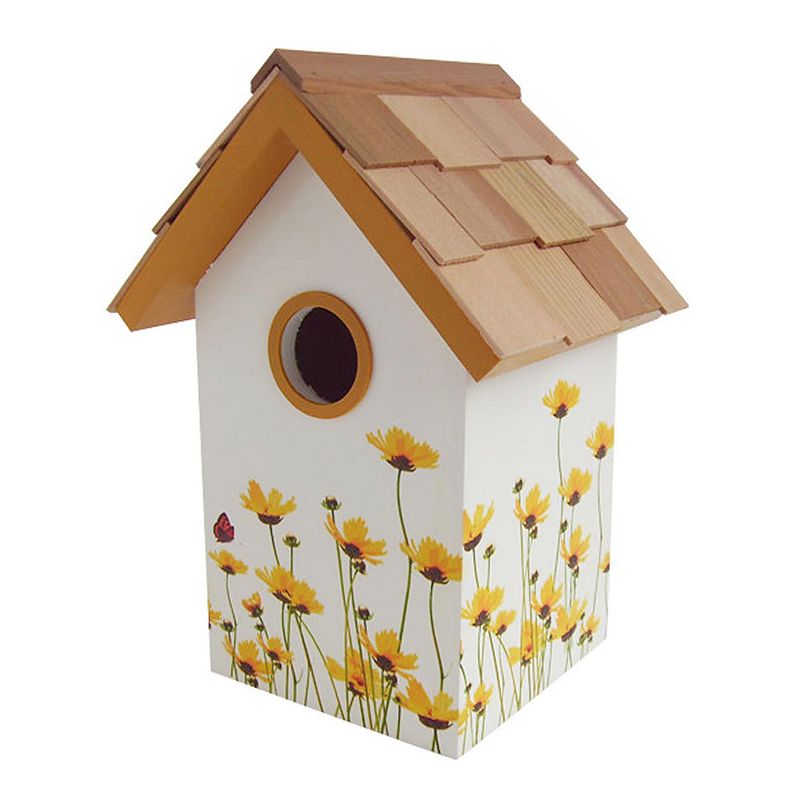 Home Bazaar Indoor / Outdoor Floral Bird House (Daisy)
Pick your favorite floral with these beautiful Home Bazaar floral bird houses. PRODUCT FEATURES Non-toxic exterior grade paint PRODUCT DETAILS 9.25"H x 6.75"W x 5.5"D Wood, polyresin Hand wash Manufacturer's 1-year limited warranty MODEL NUMB… [Read more]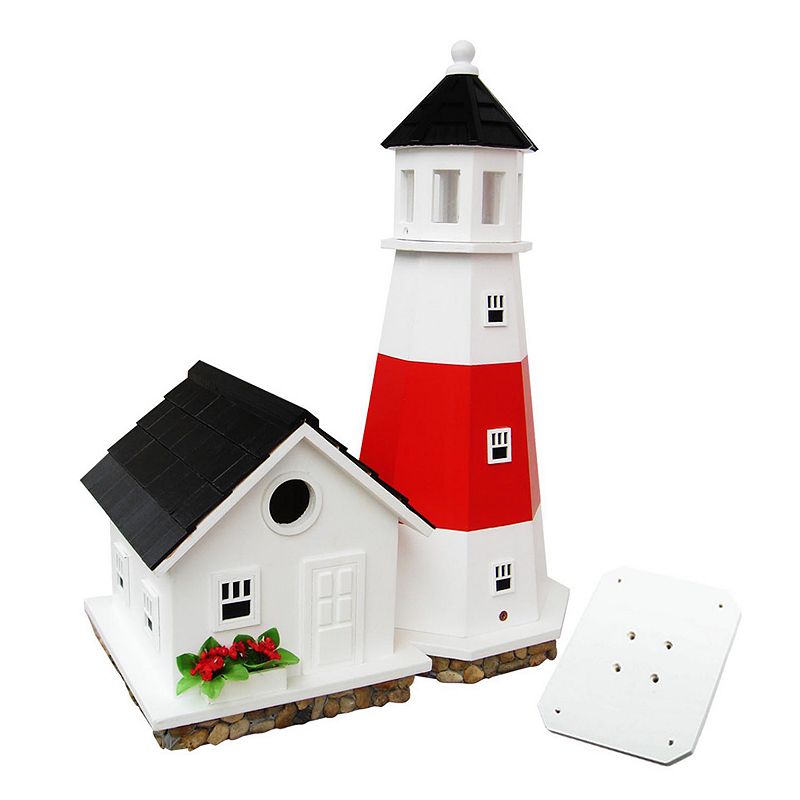 Home Bazaar Indoor / Outdoor Montauk Point Lighthouse Bird House, Red White
Riverstone details give this Home Bazaar bird house a special look. Non-toxic exterior grade paint Removable back wall 19.5"H x 8"W x 15"D Wood, polyresin Hand wash Manufacturer's 1-year limited warrantyFor warranty information please click h… [Read more]
Rolling on the River Birdhouse
The Bouquet Urn is a wonderful feature for your garden setting. It is simplistic while being ornate and elegant at the same time. This urn is sure to add the perfect touch of style to your setting, creating a one of a kind focal point! Bouquet Urn measures … [Read more]
Create the perfect look for that empty corner on your patio! The Acropolis Corner Fountain is a sleek fountain features two small tiers over a basin placed on a pedestal. This sophisticated fountain will add a soothing and delightful water feature to your g… [Read more]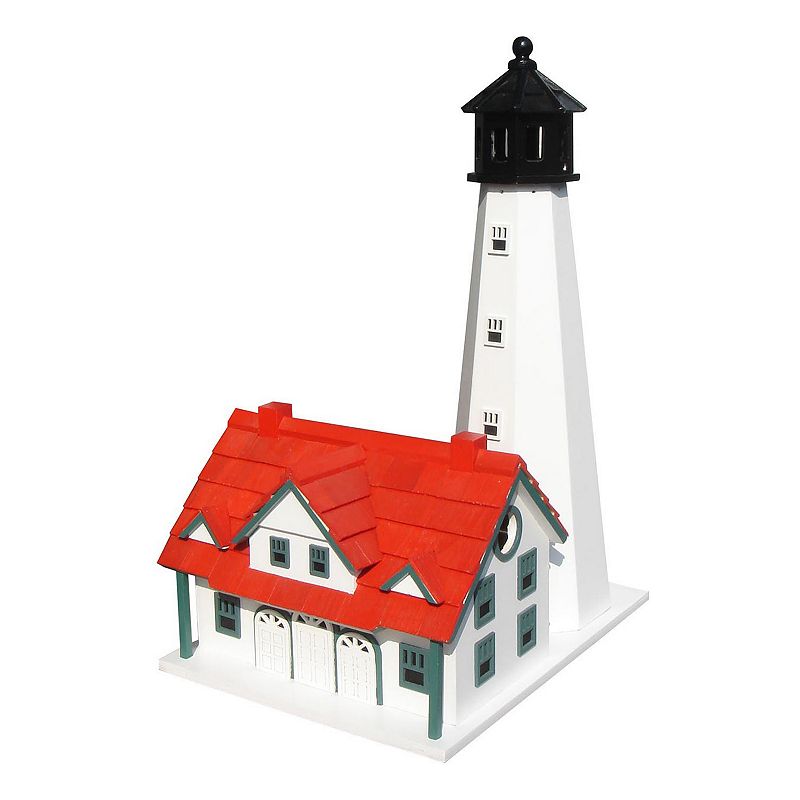 Home Bazaar Indoor / Outdoor Portland Head Lighthouse Bird House, Red White
Add stunning style to your yard while impressing your feathered friends with this Home Bazaar bird house. Non-toxic exterior grade paint 20"H x 11"W x 13.875"D Wood, polyresin Hand wash Manufacturer's 1-year limited warrantyFor warranty infor… [Read more]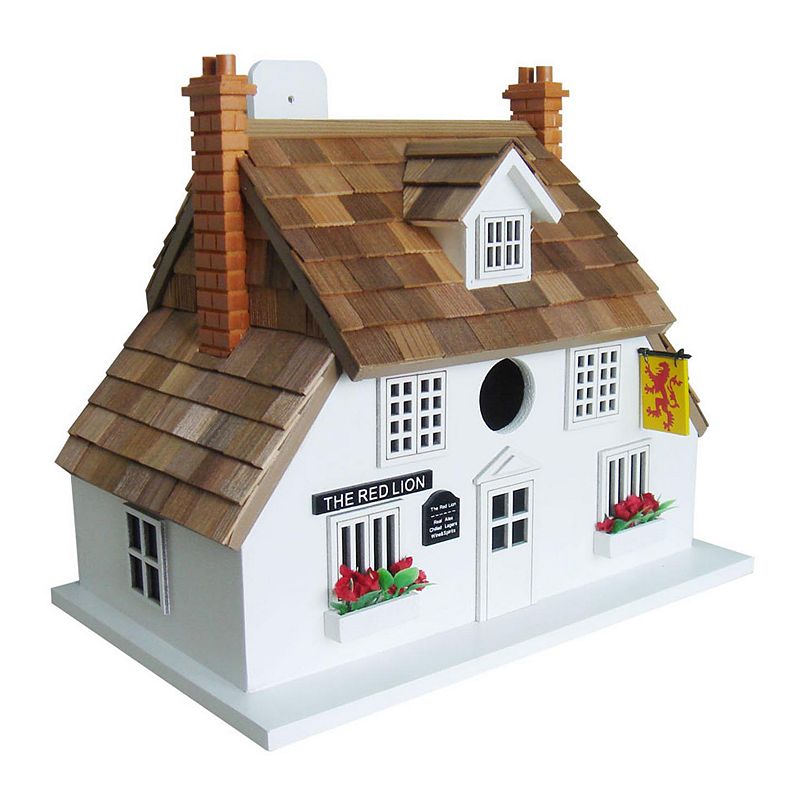 Home Bazaar Indoor / Outdoor Red Lion Pub House Bird House, White
Host a seed happy hour with this Home Bazaar Red Lion Pub bird house. Non-toxic exterior grade paint 9.75"H x 11.25"W x 7.25"D Wood, polyresin Hand wash Manufacturer's 1-year limited warrantyFor warranty information please click here Model no… [Read more]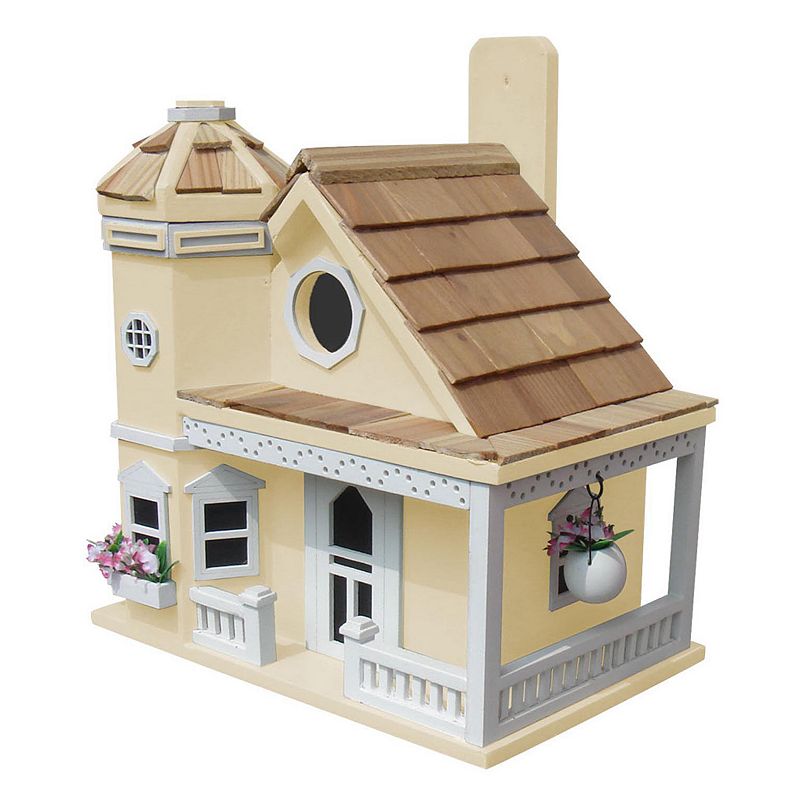 Home Bazaar Indoor / Outdoor Flower Pot Cottage Bird House, Yellow
Give the birds something to tweet about with this Home Bazaar flower pot cottage birdhouse. Non-toxic exterior grade paint Removable back wall 9"H x 10"W x 9"D Wood, polyresin Hand wash Manufacturer's 1-year limited warrantyFor warranty infor… [Read more]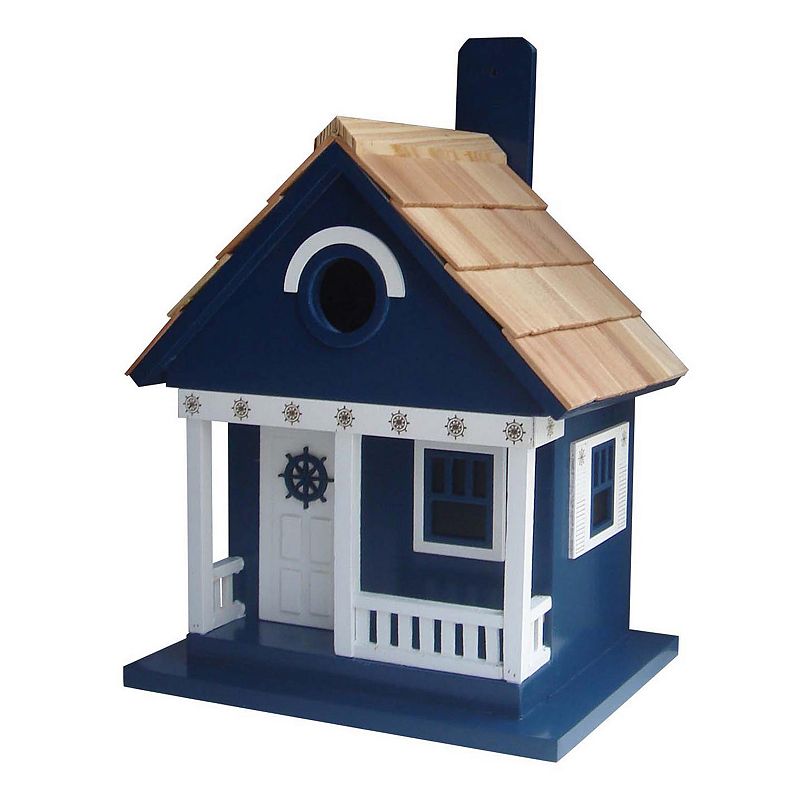 Home Bazaar Indoor / Outdoor Ships Wheel Cottage Bird House, Navy
Your feathered friends will love making a home in this Home Bazaar ships wheel cottage. Non-toxic exterior grade paint 9.5"H x 8.25"W x 6.5"D Wood, polyresin Hand wash Manufacturer's 1-year limited warrantyFor warranty information please clic… [Read more]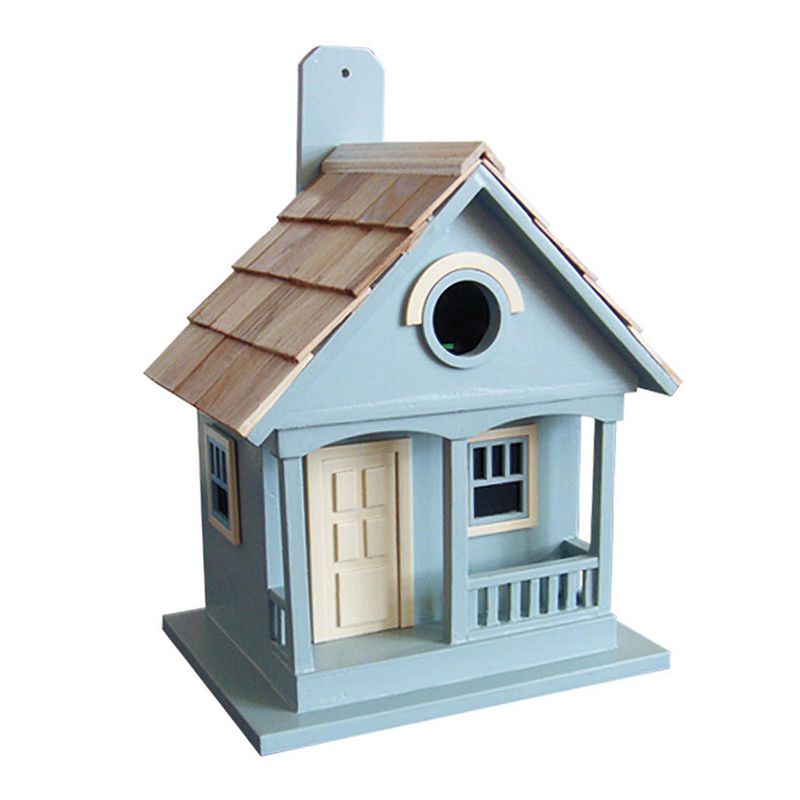 Home Bazaar Indoor / Outdoor Pacific Grove Bird House, Light Blue
This Home Bazaar Pacific Grove bird house is the perfect addition to your yard. Non-toxic exterior grade paint Removable back wall 10"H x 8"W x 6"D Wood, polyresin Hand wash Manufacturer's 1-year limited warrantyFor warranty information pleas… [Read more]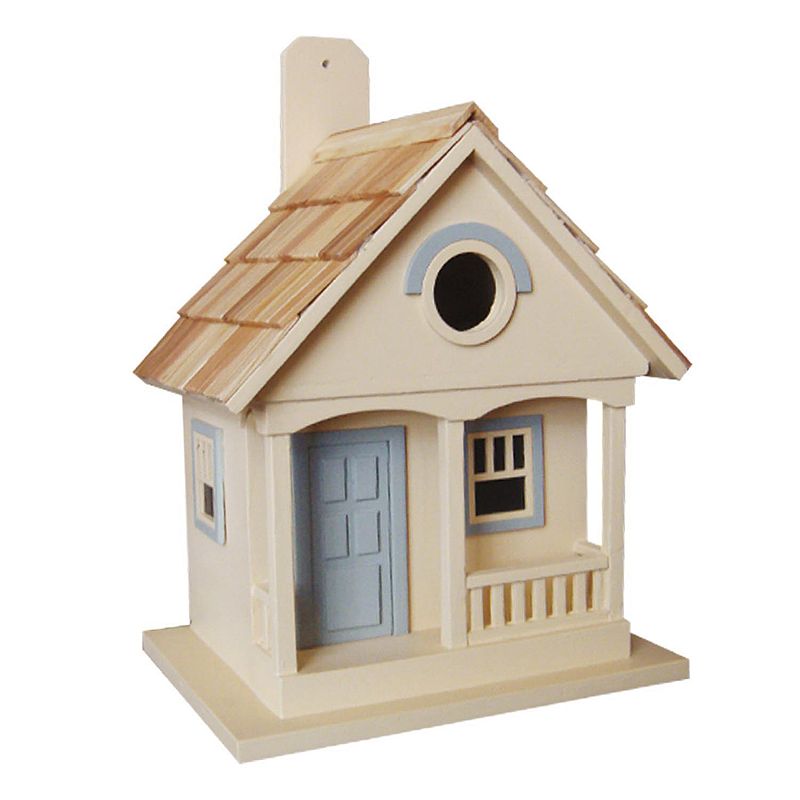 Home Bazaar Indoor / Outdoor Pacific Grove Bird House, Yellow
This Home Bazaar Pacific Grove bird house is the perfect addition to your yard. Non-toxic exterior grade paint Removable back wall 10"H x 8"W x 6"D Wood, polyresin Hand wash Manufacturer's 1-year limited warrantyFor warranty information pleas… [Read more]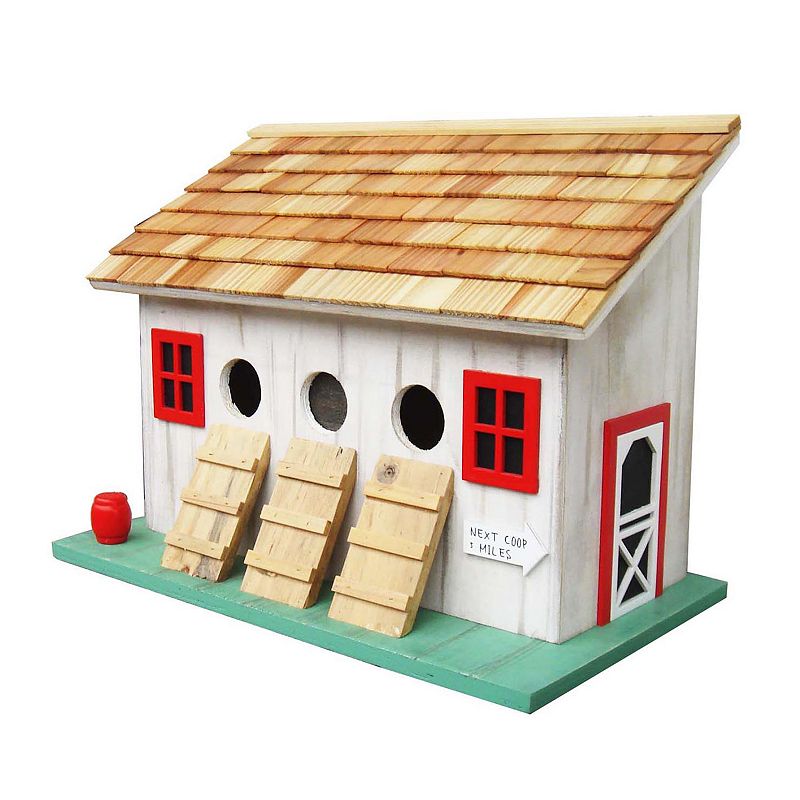 Home Bazaar Indoor / Outdoor Chicken Coop Bird House, White
Your feathered friends will love the weathered charm and fun ramps of this Home Bazaar chicken coop bird house. Non-toxic exterior grade paint 12.875"H x 7.25"W x 9.5"D Wood, polyresin Hand wash Manufacturer's 1-year limited warrantyFor warra… [Read more]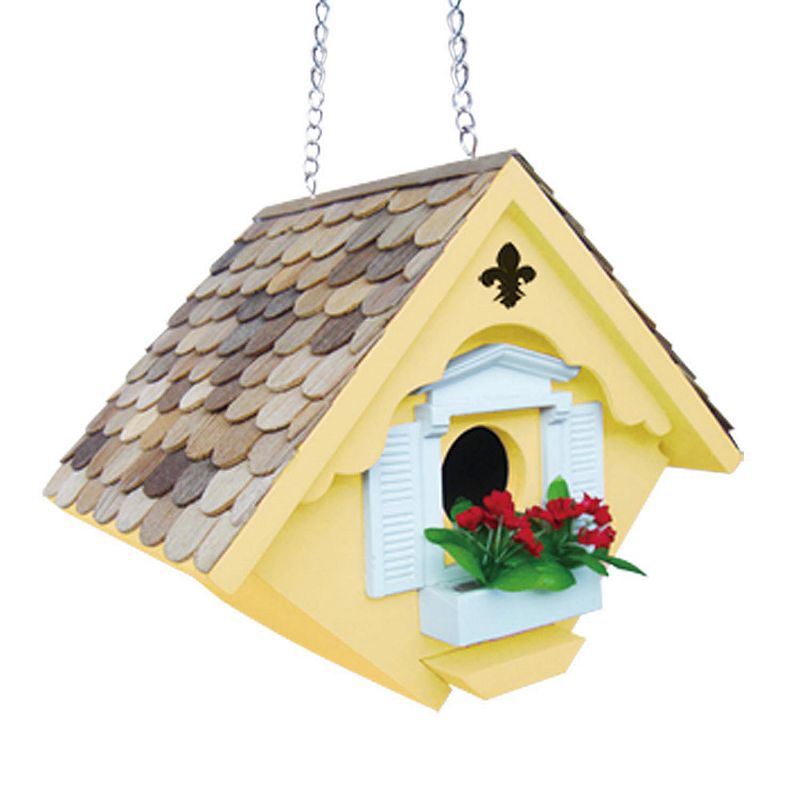 Home Bazaar Indoor / Outdoor Little Wren Bird House, Yellow
Your neighborhood Wrens will love this swinging Home Bazaar little Wren house. Non-toxic exterior grade paint Removable bottom panel 8"H x 6.5"W x 5.5"D Wood, polyresin Hand wash Manufacturer's 1-year limited warrantyFor warranty information … [Read more]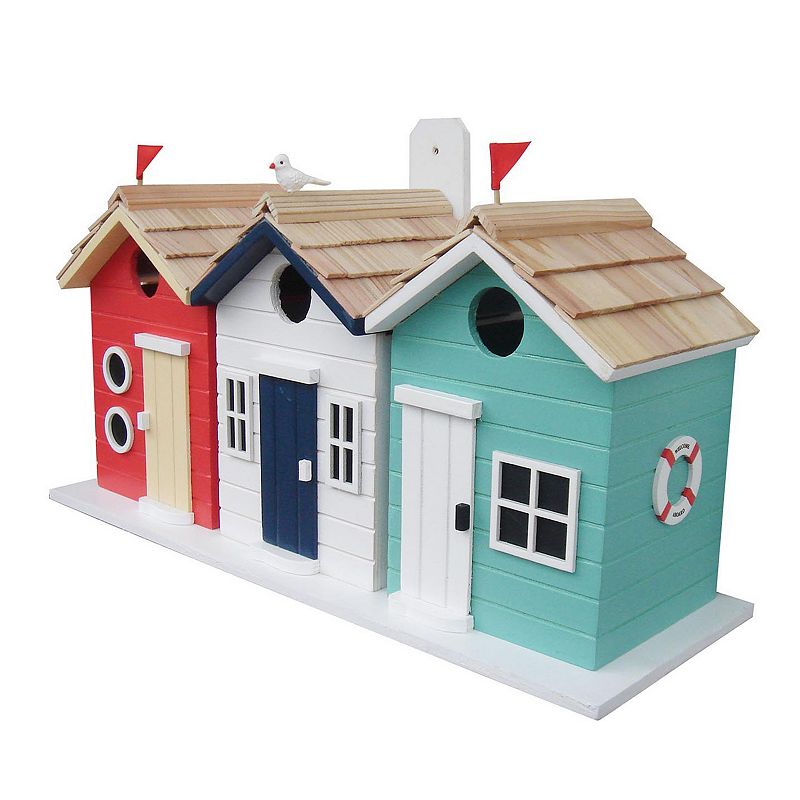 Home Bazaar Indoor / Outdoor Brighton Beach Huts Bird House, Red White Blue
Avian residents will love the quaint charm of this Home Bazaar Brighton beach hut bird house. PRODUCT FEATURES Non-toxic exterior grade paint PRODUCT DETAILS 8.25"H x 17"W x 5.75"D Wood, polyresin Hand wash Manufacturer's 1-year limited warra… [Read more]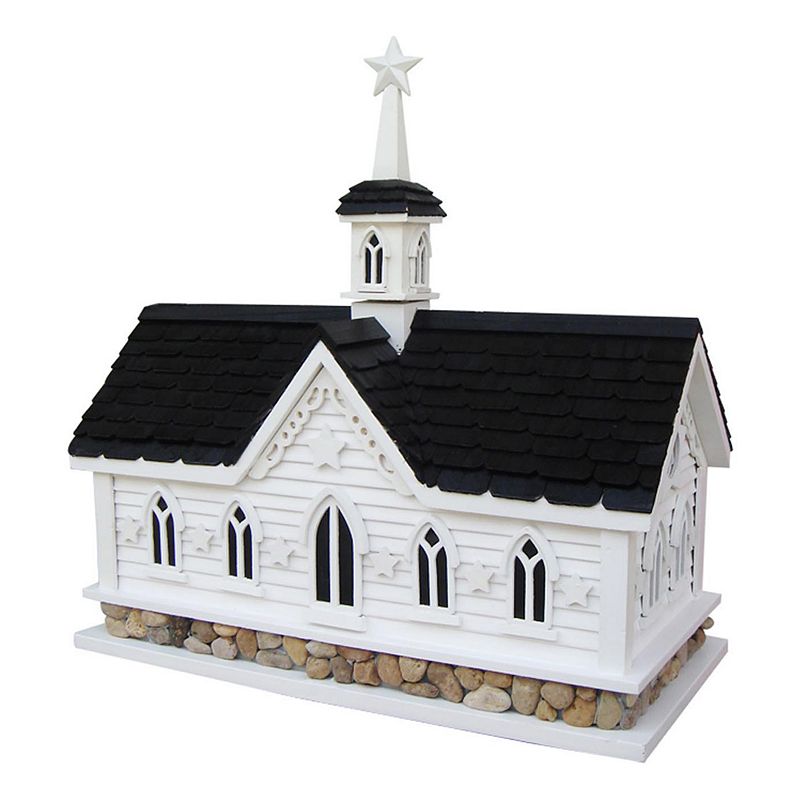 Home Bazaar Indoor / Outdoor Star Barn Bird House, White
Inspired by the iconic Star Barn, this Home Bazaar bird house can host several feathered friends. Non-toxic exterior grade paint Removable back wall 19"H x 18"W x 8"D Wood, polyresin Hand wash Manufacturer's 1-year limited warrantyFor warrant… [Read more]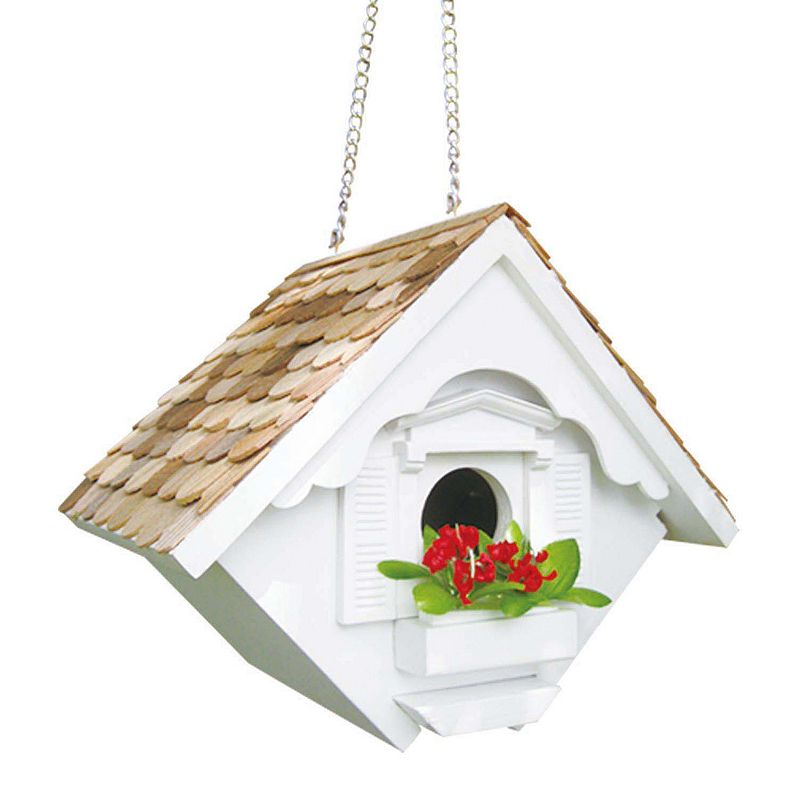 Home Bazaar Indoor / Outdoor Little Wren Bird House, White
Your neighborhood Wrens will love this swinging Home Bazaar little Wren house. Non-toxic exterior grade paint Removable bottom panel 8"H x 6.5"W x 5.5"D Wood, polyresin Hand wash Manufacturer's 1-year limited warrantyFor warranty information … [Read more]
Oakland Living Sun God Bird House
Made of durable polyresin, it looks decorative indoors or out with its detailed design and colorful tropical appeal. Includes cord with hanging hook. [Read more]
Sweet Nesting Birdhouse Clock Allen Designs
Sweet Nesting Pendulum Wall Clock Made from an original design by Michelle Allen Home is where the heart is. Hand painted on resin. The bird pendulum swings back and forth. Requires one AA battery (not included). All clock mechanisms are warranted for two y… [Read more]
Giving new meaning to the West Wing, the Presidential Birdhouse boasts ample room for the entire family! Wonderfully detailed, this miniature wooden White House includes potted plants and an American flag atop the flagpole near the front entrance. The Presi… [Read more]
The delightful Small Tier with Fisher Boy Fountain is a playful and wonderful accent for your garden setting. Place it out amongst your beautiful garden blooms and greens to create a wonderful water feature for your setting. This fountain will not only make… [Read more]
The stunning Slate Three Tier Fountain is designed to look like a naturally forming rock formation, creating a rustic and charming water feature for your home. Water gently pours from rocky tier into rocky tier creating a delightful display, as well as addi… [Read more]
A rustic and charming fountain, the Slate Cascade Fountain will make a remarkable and enjoyable water feature for your setting. Appearing as a natural forming rock waterfall, there are four layers, where water flows from one into the next. Enjoy the soothin… [Read more]
The Ercolano Fountain features rustic charm, making it appear as an old antiqued fountain! This delightful piece will bring a stunning beauty, sure to be the perfect accent for your plants and blooms! Enjoy the two tiers of flowing water, and the serenity t… [Read more]
This beautiful wall fountain is sure to add an elegant touch to your empty garden wall. Make a beautiful focal point with this truly enchanting fountain. You can be assured the Vinci Wall Fountain will be a delightful and enjoyable water feature for your ga… [Read more]
The delightful two tiered Verona Fountain is sure to make a stunning focal point for your garden setting. Water flows down trhough two ornately decorated tiers, adding beauty and dimension to your setting. Allow this fountain to make a grand statement in yo… [Read more]
The Baroque Corner Pot is the perfect accent for that empty corner! It will dress it up and add a beautiful focal point with its lovely detailings. It also makes a wonderful home for your favorite plants and flowers. Baroque Corner Pot measures 49 inches ta… [Read more]
This classical standing wall fountain is sure to add a touch of old European flair to your garden setting! The stunning Ponte Vecchio Fountain features a detailed lion's head that spouts water into the basin below. The classical beauty of this wall fountain… [Read more]
Perfect for smaller, more intimate garden settings, the Positano Lion Fountain, will add a classical touch to your garden. Featuring two ornate tiers, the top tier has detailed lion's heads around it, while the bottom tier has a unique and charming pattern … [Read more]
Elegant and full of stunning detail, the Putti Fountain will bring a romantical touch to your setting! The ornate detail, from the pinapple finial, to the sweet cherubs, down to the shapely pedestal this fountain is full of sophisticated style and class. En… [Read more]
The unique Cortona Fountain features an inverted top tier, creating an umbrella type look, allowing water to glide off of it and into the bottom tier! The sophisticated style and stunning detail covering this fountain are sure to add beauty and elegance to … [Read more]
This stunning cast stone fountain is full of classical detail, and the octagonal shape of the basin, create a stunning and visually appealing feature for your garden setting. The water falls from the spigot into the basin, which sits on an ornate pedestal. … [Read more]
This classic standing tiered fountain is just waiting to make that empty corner "pop"! The Nandina Corner Fountain features classic style, that allows it to blend into virtually any decor, while providing the soothing and relaxing benefits of wate… [Read more]
Country Bar and Grill Birdhouse
The Impero Urn is full of classical style and elegance. Full of old world style, this enchanting piece will bring beauty and a timeless touch to your setting. Leave it empty or fill it with beautful blooms to create a captivating focal point. Impero Urn mea… [Read more]
The Deruta Lemon Planter Box is a great planter for along a garden wall or under a window to create a great focal point. The rectangular shape and the lemons that decorate the planter make it classical and appealing. Fill this planter with flowers, grasses,… [Read more]
Country Home Standing Birdhouse
Simple, yet stunning, this smaller fountain is perfect for more intimate garden setting. The unique shape of the Sedona Fountain will add an artistic focal point, while adding the soothing and relaxing addition of water in motion. Enjoy this wonderful water… [Read more]
Rustic and appealing the Large Della Robbia Planter will bring style and elegance to your garden setting. This planter is great for a patio, porch, or out in your garden setting. It will look perfect filled with beautiful blooms and greens, making a wonderf… [Read more]
The Regal Urn features a classical style and elegant design. The charm of this urn allows it to fit into any garden decor adding the perfect finishing touch. Create a wonderful focal point by planting beautiful blooms and greens into this one of a kind urn…. [Read more]
This decorative garden planter is sure to add style and character to your garden setting. The: Large Acanthus Pot will make the perfect home for your favorite plants and flowers, bring a classical and elegant focal point to your indoor or outdoor space! Aca… [Read more]
The Medium Acanthus Pot is an exciting and decorative accent for your garden setting. This pot features stunning attention to detail and a great texture. Create a wonderful home for your favorite plants and flowers, while adding a great focal point to your … [Read more]
The Small Acanthus Pot is the perfect decorative accessory to add to your garden collection! Brimming with detail and charm, this cast stone planter will make a delightful home for your favorite plants and flowers, showcasing them perfectly. This planter is… [Read more]
This stunning urn is sure to add a beautiful accent to your garden decor. The Cupid Urn features the mythical god of love in his cherubic form creating a interesting and exciting focal point! Enjoy the beauty and elegance this wonderful garden planter will … [Read more]
Fountains are both a festive and tranquil addition to any living space! This Birdhouse and Barrel fountain is a fun decor item that you will enjoy for years to come. [Read more]
Mate gourd birdhouse, 'Scarlet Owl' (Peru)
Engraved by hand, scarlet owls adorn a crimson birdhouse. Emilio Hurtado transforms a dried mate gourd into a nesting shelter. Baths of smoke help intensify its deep, rich color. Inside, a tiny mate gourd depicts a baby owl with big eyes. The shape and size… [Read more]
Mate gourd birdhouse, 'Emerald Owl' (Peru)
Engraved by hand, owls adorn a deep green birdhouse. Emilio Hurtado transforms a dried mate gourd into a nesting shelter. Baths of smoke help intensify its color. Inside, a tiny mate gourd depicts a baby owl with big eyes. The shape and size of the natural … [Read more]
Mate gourd birdhouse, 'Brown Owl' (Peru)
Engraved by hand, brown owls adorn a birdhouse. Emilio Hurtado transforms a dried mate gourd into a nesting shelter. Baths of smoke help intensify its deep, rich color. Inside, a smaller mate gourd depicts a baby owl with big eyes. The shape and size of the… [Read more]
Ceramic candleholders, 'Birdhouse' (Guatemala)
By Roxana de Papadopolo, these charming candleholders are hand crafted of ceramic and colored with earthen tones. They can sit on a table, or hang from the ceiling by passing a cord through openings at the top. "I was inspired traditional wooden birdho… [Read more]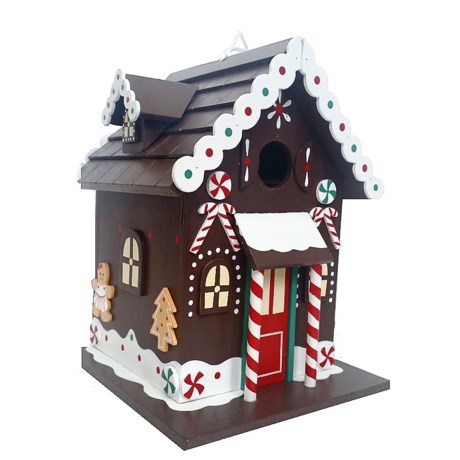 Home Bazaar Gingerbread Christmas Cottage Birdhouse
Overstock. If you think this Home Bazaar Gingerbread Christmas Cottage birdhouse looks sweet now, just wait? til you see it dusted with snowflakes while it hangs outside this winter! Available Colors: GINGERBREAD. [Read more]
Related Posts Just for You
Comments
comments
r