When was the last time that you organized your closet?
Every time that the seasons change, I am organizing my closet.
Is it time to organize your closet?
I know that it is time to organize mine!
Organizing your closet means to arrange what you have in a way that is most useful to you. The goal is to make it as easy as possible to find what you are looking for. You are also making the most out of the space that you have.
Top Tips For Organizing your closet
Before you can organize a closet, you need to filter out what you no longer need or want.There is little sense to organizing a closet that contains useless items.
Assess what you already have in the way of space.
This may mean that you will need to take everything out of your closet to do this. Get an idea of how much space is actually there as opposed to how much you are actually using. Also note if closet rods and shelves are in a useful place.
Get creative with your space.
Can you move your rods up or add a new one? Can you add a new shelf. Don't forget about the walls of the closet and other areas that can become useful with a new hook or shelf.
Arrange things according to usefulness.
You most likely want the items that you will use the most to be the easiest to to get to. The items that you use the least can go elsewhere. Take this into consideration when you rearrange rods and shelves.
What else can you use?
If you have a lot of shoes, it could be worth your while to invest in a behind the door shoe rack or cubby. Drawers or see through plastic boxes are useful for sweaters.
What can go elsewhere?
If you have a lot of cold weather gear and it is summer, why not just find a temporary home for these items? Check out under your bed or unused closets elsewhere.
Lastly, is your closet appealing?
If you love your closet you are more likely to take care of it.
Invest in colorful hangers that all match if you need to. Keep the closet floor tidy.
Need some ideas?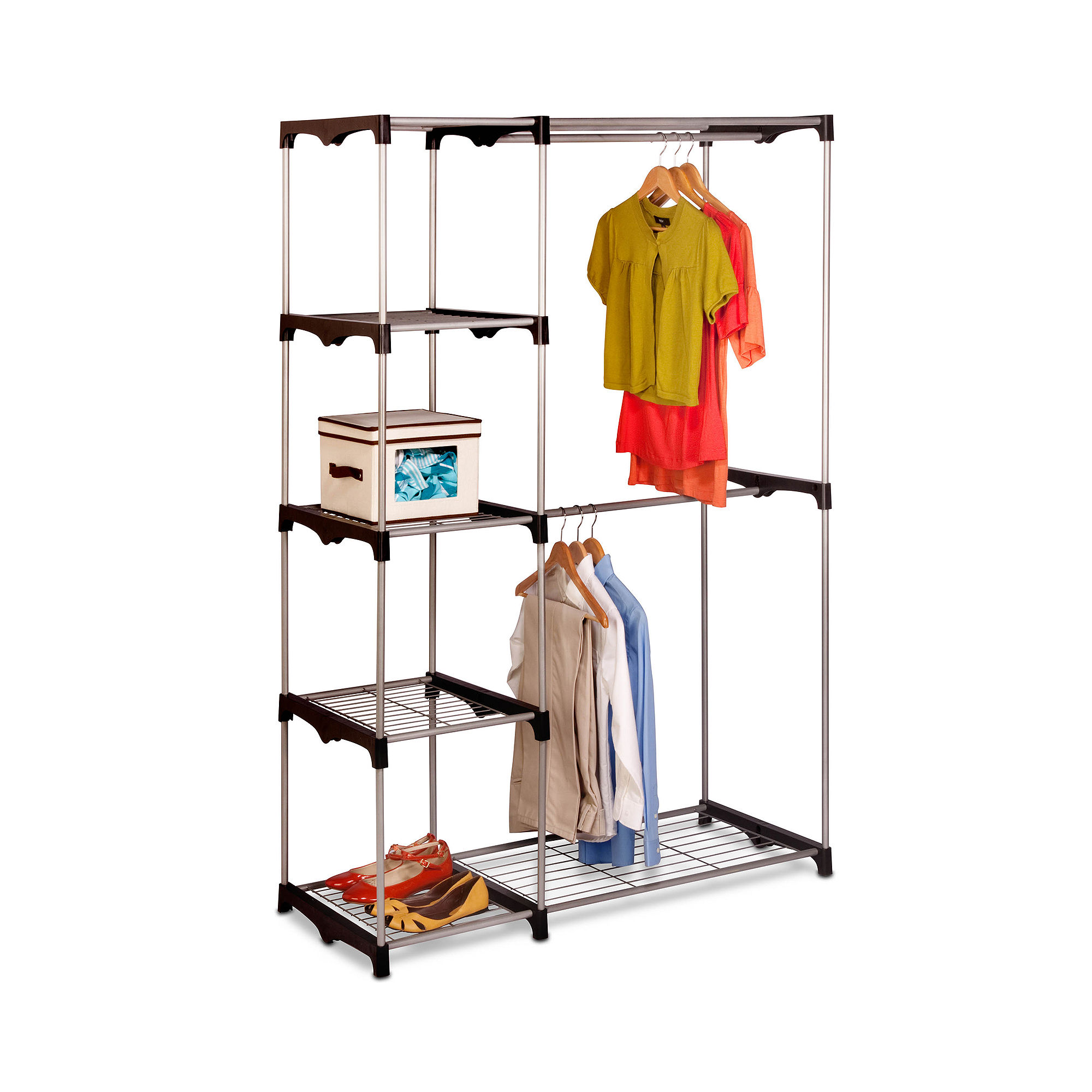 Honey-Can-Do Double-Rod Freestanding Closet
As sturdy as it is portable, this freestanding closet will provide convenient storage for years to come. durable steel and plastic construction 4 stacking shelves dual rods for hangers Steel/plastic. Measures 45.3×19.7×68"H. Wipe clean. Assembly requir… [Read more]
Related Posts Just for You
Comments
comments
r