We got this new mixer and I just had to try these Sugar Free Espresso Chocolate Chip Cookies

Espresso Chocolate Chip Cookies @BestBuy @KitchenAidUSA
Just a bit of disclosure here that I need to mention.
The folks from Best Buy sent me this KitchenAid MIGHTY MINI mixer to try out. I obliged by making these incredible cookies.
To be honest, I have been using a KitchenAid Classic Mixer for…ahem…over 20 years now.
That would be the same mixer, not a new one. My story in itself should tell you how well-made these mixers are. I use my mixer several times a week- that is a lot of use. My Classic Mixer works just like it did on the day that I brought it home. Hence, I have been very happy with it.
MEET THE MIGHTY MINI – MINI MIXER. POWERFUL PERFORMANCE.
Kitchen Aid is excited to introduce the Artisan Mini – a new and innovative addition to the Kitchen Aid Stand Mixer Family
With the launch of the new Artisan Mini, there is now a smaller mixer that takes up less counterspace, is lighter in weight so you can easily move it around your kitchen and has the same iconic design and power as our other tilt-head stand mixers.
The NEW Artisan Mini Stand Mixer is 20% smaller and 25% lighter, making it the ideal culinary tool for smaller spaces and kitchens. Since the compact size and lighter weight perfectly suit the needs of a city dweller who loves to cook in their smaller spaces.
Thus, the Artisan Mini is made for your lifestyle, made for your kitchen, made for you.
While mini in size, the NEW Mini Stand Mixer can make up to 5 dozen cookies in it's 3.5 quart stainless steel bowl. Yet, the Artisan Mini Stand Mixer also features 10 mixing speeds and comes with a coated flat beater, dough hook and 6-wire whip.
I used my new Mighty Mini to make these delicious Espresso Chocolate Chip Cookies
My sugar free espresso chocolate chip cookies are not your average cookie. These cookies are a sugar free version of an amazing tasting cookie.

I shared the sugar free version on the Sugarfreediva.com as well.
The sugar free version of the recipe uses sugar free alternatives to sugar. You are welcome to use the regular sugars- white and light brown- instead.
The sugar free version also uses coconut palm sugar.
This is substituted for what would normally be brown sugar in the recipe. I use coconut palm sugar because the experts say that it contains a fiber called inulin, which may slow glucose absorption and thus, has a lower glycemic index than regular table sugar. You can use this or any other brown sugar alternative of your choice- as long as the amount is equivalent.
The Recipe for Sugar Free Espresso Chocolate Chip Cookies
print recipe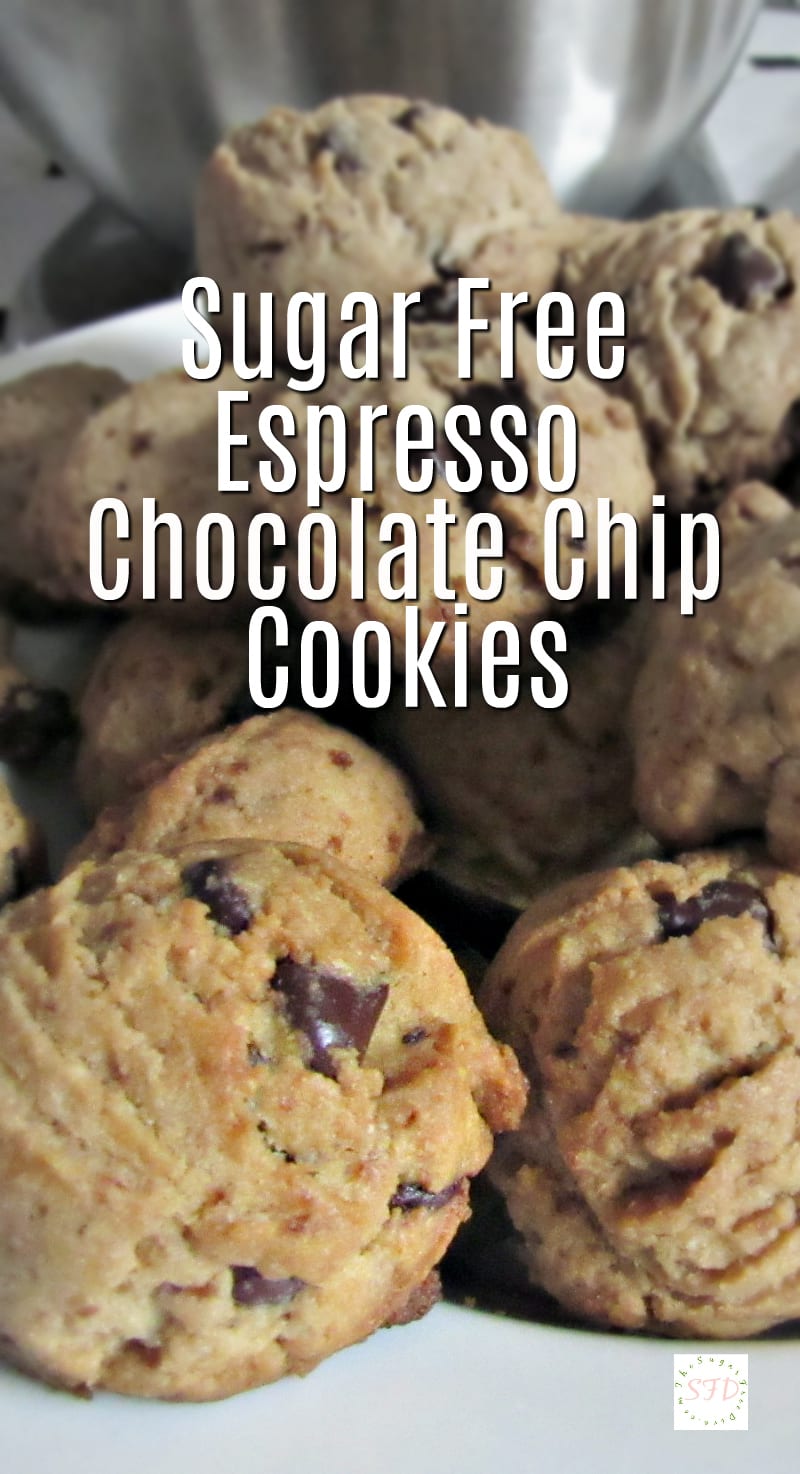 Sugar Free Espresso Chocolate Chip Cookies
A delicious alternative to a regular espresso chocolate chip cookie.
Ingredients
Butter or Coconut Oil-1 Cup-

White Sugar (or Alternative)-1 Cup-

Brown Sugar (or Alternative)-1/2 Cup-

Egg-2-

Vanilla Extract-2 teaspoons-

Flour (AP)-2 1/4 cup-

Baking Soda-1 tsp-

Salt-1 tsp-

Sugar Free or Regular Chocolate Chips-1 bag (8-10 ounce)-

Instant Espresso Coffee Powder-2 teaspoons-
Instructions
While you work,Preheat your oven to 375 and prep you pans for nonstick- I use a silicon mat or parchment paper.
In a bowl, mix together your sugar alternatives and butter (or alternative). Set aside.
In a mixing bowl, combine the egg,vanilla, flour, baking soda, and salt. Use the paddle attachment on the mixer and mix on low for about 15 seconds for the ingredients to disperse.
Gradually add the sugar alternative/butter mixture to the dry mixing on low.
After 20 seconds of mixing on low until somewhat blended, slowly add the chocolate chips and espresso.
Bake for 10-12 minutes or until the cookies start to brown. Remove from oven and allow to cool for a minute or two before removing from the pan.
Details
Prep time: Cook time: Total time: As a result- Yield: 4-5 dozen depending on size
SEE THE MIGHTY MINI – MINI MIXER. POWERFUL PERFORMANCE at Best Buy.
Because this is really a great mixer!
Related Posts Just for You
Comments
comments
r